LaGuardia Community College Trains NYCHA Residents for Essential Jobs as Community Health Workers
Training Public Housing Residents to Take Care of Their Community's Health
January 12, 2021
Community health workers are important public health advocates who help people manage chronic health conditions; educate and guide them through the medical system; and connect them to much-needed health and social services in a culturally appropriate manner. Many community health workers are members of the communities they serve, trusted neighbors who liaise between hospitals and other health organizations and their clients. Research has proven that community health workers help improve health outcomes and lower health care costs in the communities they work in.
Thanks to the East Harlem Community Health Worker Training pilot program between the New York City Housing Authority (NYCHA) and LaGuardia Community College, 13 NYCHA residents have trained to join this essential, growing field and support their fellow NYCHA residents and community members in managing their health.
"The Covid-19 pandemic has shown us that on-the-ground health workers are essential to our communities. By expanding the pool of well-trained community health workers, this program benefits all of us," said LaGuardia Community College President Kenneth Adams. "This partnership with the New York City Housing Authority will lead to residents finding meaningful, economically rewarding jobs and ultimately better health outcomes for our city's residents. We look forward to more collaborations in the future."
Participants in the pilot took intensive online classes through LaGuardia Community College on topics such as communication skills, health and wellness, and how to navigate health care systems. They also completed 130 hours of on-the-job experience as interns with partner organizations.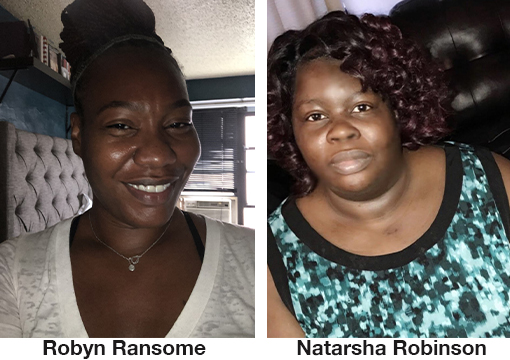 Robyn Ransome, a Washington Houses resident and pilot participant, said each class built upon the previous class and "at the end of all the classes, I have a whole understanding of how to best assist the people in my community."
Ms. Ransome previously worked in mental health services for over 10 years. She was about to start a new position before COVID-19 hit, but the role was terminated due to the pandemic. This pilot program presented itself at the perfect time and is moving her a step closer to her career goals. She has a bachelor's degree in psychology and plans to attend graduate school for social work and public health. In the future, she'd like to be a clinical holistic therapist and help patients deal with mental health issues.
Another participant, Natarsha Robinson, said she learned "about how racial and economic disparities can affect health, how to collect data, how to ask open-ended questions with empathy, and how to put myself in someone else's shoes and be compassionate with clients. I also learned that East Harlem has a high rate of asthmatic and COPD patients."
Ms. Robinson, a Wilson Houses resident who was previously a school crossing guard, believes the pilot taught her more about her own health while also teaching her how to contribute more to her community: "I've always wanted to work in the health industry but I'm not good with blood and emergency situations. I also wanted to do something to help my community, and this program was a combination of both, so it really intrigued me."
Ms. Robinson got experience with the type of work she hopes to do in the future through her internship with Asian Community Care Management. She helped one of the company's community health workers with check-in calls to clients to see whether they needed assistance with their health care needs, including medication management and social services referrals.
Now that these 13 residents have graduated from the pilot program, they are receiving one-on-one job placement support. Ten residents have already been connected to their first paid position, a six-month position as community health workers for an NYU research study to improve COVID-19 testing for NYCHA residents.
During her internship at NYU Langone, Ms. Ransome helped prepare materials for the research study, which is set to begin in early 2021. She received training on contact tracing and worked on preparing brochures and FAQs. Once the study begins, she and the nine other community health workers will work at partner community organizations near six NYCHA developments to educate residents about COVID-19 testing; explain testing options; answer questions; and work with NYU researchers, partner organizations, and residents to help build a network that reduces COVID-19-related disparities in these high-risk populations.
Read more about this program in a recent NYCHA Journal article.
IF YOU ARE INTERESTED IN APPLYING:
NYCHA and LaGuardia Community College are hoping to expand the program to other parts of the City with additional funding and partnerships with other area hospitals and foundations. Meanwhile, additional programs are available at LaGuardia Community College to help people get the training they need to qualify for new jobs, quickly.
• • • •
The New York City Housing Authority (NYCHA) is the largest public housing authority in North America, with 400,000 residents living in 15 percent of the nation's public housing units. Developments—which are spread throughout the city but concentrated in lower-income neighborhoods—have organized resident associations, which facilitate capacity for sustained engagement and opportunities for community activation. Approximately 90 percent of NYCHA residents are Black or Hispanic, a population that has borne a disproportionate burden of COVID-19 infections, hospitalizations, and deaths.
LaGuardia Community College , located in Long Island City, Queens, educates thousands of New Yorkers annually through degree, certificate, and continuing education programs. Our guiding principle Dare To Do More reflects our belief in the transformative power of education—not just for individuals, but for our community and our country—creating pathways for achievement and safeguarding the middle class. LaGuardia is a national voice on behalf of community colleges, where half of all U.S. college students study. Part of the City University of New York (CUNY), the College reflects the legacy of our namesake, Fiorello H. LaGuardia, the former NYC mayor beloved for his championing the underserved. Since our doors opened in 1971, our programs regularly become national models for pushing boundaries to give people of all backgrounds access to a high quality, affordable college education. We invite you to join us in imagining what our students, our community, and our country can become.
####