LAGUARDIA COMMUNITY COLLEGE PROVIDES CLEAN ENERGY TRAINING FOR PUBLIC HOUSING RESIDENTS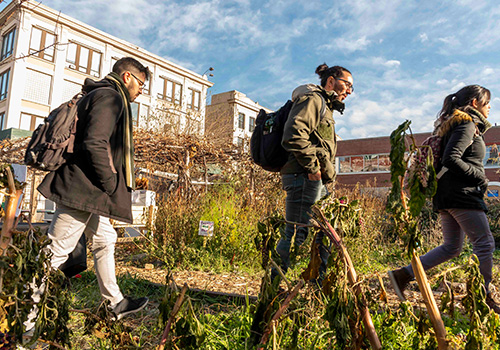 LONG ISLAND CITY, NY (November 15, 2022) — LaGuardia Community College/CUNY will provide clean energy training for public housing residents as part of a new $2 million workforce training program to create a workforce ready to help the New York City Housing Authority (NYCHA) achieve its decarbonization goals while providing economic mobility to residents through careers in the clean energy sector. The initiative, known as the Clean Energy Academy, is a partnership between public agencies and private philanthropies. LaGuardia will oversee a training site for the program.
"Our partnership in the Clean Energy Academy reflects our commitment to creating opportunities for local community members to build careers with family-sustaining wages. LaGuardia's Continuing Education Division is ready to provide NYCHA residents with industry-informed education to prepare them for high-demand clean energy jobs," said Kenneth Adams, president of LaGuardia Community College.
"It is critical that we not only find new and innovative ways to develop clean energy as we work to decarbonize our buildings, but that we have a well-trained workforce to install and operate this technology," said NYCHA Chair and CEO Greg Russ. "The Clean Energy Academy will position NYCHA residents to work in building electrification and clean energy careers while moving public housing authorities into a cleaner future."
NYSERDA Workforce Development and Training Director Adele Ferranti said, "Workforce development and training is a critical part of New York State's transition to a clean energy economy. NYSERDA is thrilled to help fund the Clean Energy Academy—which will not only train NYCHA residents with the skills needed to pursue clean energy jobs with contractors working on NYCHA properties, but will help support NYCHA's broader effort to reduce building emissions and establish healthy and comfortable living spaces for more New Yorkers."
The Academy is supported by a two-year funding commitment from New York State Energy Research and Development Authority (NYSERDA) of $385,000, along with $345,000 from National Grid as the lead private partner, $75,000 from New York Power Authority (NYPA). In addition, Trinity Church Wall Street Philanthropies is providing $100,000, NorthLight Foundation is providing $50,000, and Rise Light & Power is providing $50,000. NYCHA is providing an additional $1 million in staffing support and funding toward the program.
NYCHA, the Fund for Public Housing (The Fund), and partners view the Academy as a model for public housing authorities nationwide and intends for the program to be scalable over time.
The Clean Energy Academy seeks to meet the hiring needs of NYCHA's energy efficiency and renewable energy contractors by connecting resident trainees to NYCHA contractors who will be performing nearly $500 million in retrofit and renewable energy projects at NYCHA developments through 2026. Working directly with potential employers, the Academy will maximize NYCHA resident hires by customizing training curriculum around contractor needs and providing trainees with wrap-around services (such as mental health and other social services) to ensure they have the support necessary to succeed in their new careers and on the jobsite. The Academy has set a goal to provide 100 public housing residents clean energy job training over two years, and a goal to place at least 64 trainees into clean energy jobs over two years.
The Academy's custom-trained workforce consisting of individuals from environmental justice communities will help NYCHA accelerate building decarbonization through partnership with contractors delivering heat pump installation and maintenance, energy performance contracts and other energy retrofits at NYCHA developments.
The Clean Energy Academy is expected to begin with a comprehensive needs assessment to justify the training and hiring needs of NYCHA contractors in order to inform its training program content and approach, followed by curriculum development this fall. Resident recruitment and training will begin in early 2023.
• • • •
LaGuardia Community College (LAGCC), located in Long Island City, Queens, educates thousands of New Yorkers annually through degree, certificate, and continuing education programs. LaGuardia is a national voice on behalf of community colleges, where half of all U.S. college students study. Part of the City University of New York (CUNY), the College reflects the legacy of our namesake, Fiorello H. LaGuardia, the former NYC mayor beloved for his championing the underserved. Since our doors opened in 1971, our programs regularly become national models for pushing boundaries to give people of all backgrounds access to a high quality, affordable college education.
The New York City Housing Authority (NYCHA), the largest public housing authority in North America, was created in 1935 to provide decent, affordable housing for low- and moderate-income New Yorkers. NYCHA is home to roughly 1 in 16 New Yorkers across over 177,000 apartments within 335 housing developments. NYCHA serves over 339,000 residents through the conventional public housing program (Section 9), over 29,000 residents at developments that have been converted to PACT/RAD, and over 92,000 families through federal rent subsidies (the Section 8 Leased Housing Program). In addition, NYCHA connects residents to opportunities in financial empowerment, business development, career advancement, and educational programs. With a housing stock that spans all five boroughs, NYCHA is a city within a city.
NYSERDA, a public benefit corporation, offers objective information and analysis, innovative programs, technical expertise, and funding to help New Yorkers increase energy efficiency, save money, use renewable energy, and reduce reliance on fossil fuels. NYSERDA professionals work to protect the environment and create clean-energy jobs. NYSERDA has been developing partnerships to advance innovative energy solutions in New York State since 1975.
####