LaGuardia Student Uses College Opportunities to Feed Her Enthusiasm for Preserving the Land and Languages of Indigenous Communities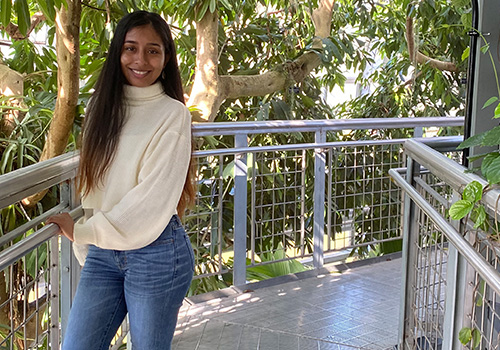 LONG ISLAND CITY, NY (February 14, 2023) — LaGuardia Community College supports students' passions by providing a variety of services and experiences to help them express themselves, develop their skills, and realize their dreams.
Gabriella Paltoo Sierra, of Woodside, Queens, is a LaGuardia student who is passionate about helping people who may not have a voice.
"I want to work with indigenous people to nurture sustainable development and language preservation," said Paltoo Sierra. "I don't want the languages of the Nahua people to be lost."
The Nahua people are one of the largest indigenous groups in Mexico today. Gabriella's mother, who is from Mexico, is part Nahua.
When Gabriella enrolled at LaGuardia as an English major, she brought an open mind with her. That openness, combined with a willingness to jump into numerous activities and opportunities where she could expand her education and experience different disciplines, has helped Gabriella set her sights on a career in international relations and environmental sustainability.
"I want to do something impactful in my career, where I can do as much for my communities and the peoples that I come from that I can," she said. "When I became a student at LaGuardia in fall 2021, I decided to join activities that could help me shape the career I want to have."
One of the first things Gabrielle joined was the Honors Student Advisory Committee (HSAC).
"HSAC is open to any student who wants to invest their time to creating a collective of students who are highly motivated and want to transfer to competitive schools and really go places after LaGuardia," said Gabriella, who also became a member of the Honors Program.
When her honors English professor announced that a Model U.N. delegation was forming under the guidance of Dr. Lara Kattekola, Gabriella signed up immediately. "Our delegation represented Switzerland. My partner and I wrote position papers—from the perspective of Switzerland—on the relationship between disarmament and development (sustainable, economic, institutional integrity) and on chemical and biological weapons. We then attended a Model U.N. conference in Washington, D.C., where we met in committees with representatives from other delegations and caucused to create resolutions on various issues. The experience taught me about international relations and public policy work, particularly in environmental sustainability. It also showed me that I enjoyed working on the positional papers, and that I was an effective networker working as part of a larger group."
Gabriella enjoyed the research aspect of writing the position papers, and credits LaGuardia activities she's been involved with for honing her research skills. "Getting a taste for research has made me want to keep doing it."
Through the CUNY Research Scholars Program, Gabriella worked with Dr. Dušana Podlucká, her psychology 101 professor, on research examining the college experiences of students with learning disabilities. Then through HSAC, she presented original research papers on bilingualism and writing for composition class at LaGuardia's Honors Conference. Next, she joined the Jumpstart Initiative for Black and Latinx Emerging Scholars, part of CUNY's Black, Race and Ethnic Studies Initiative (BRESI), which provides non-STEM majors at LaGuardia and Bronx Community College with opportunities for mentored research and cross-campus collaborations. "Through Jumpstart, I'm learning more about research methods, how to conduct interviews, and about different research tools," said Gabriella.
While she gets ready to graduate in June 2023, Gabriella is committed to making the most of her time at LaGuardia. She will be joining President's Society next semester and has two on-campus jobs. She works part-time at The English Language Center and has an internship with the Honors Program. She's applied to colleges, including a university in Mexico, where she can pursue her bachelor's degree in environmental justice and sustainability, global studies, or international relations.
Gabriella says that being an English major is helping her prepare for the career she wants in international relations and environmental sustainability. "I can use my writing and analysis skills when reading climate research and reports and coming up with ways to improve upon or add to existing legislation."
Gabriella encourages other LaGuardia students to jump into opportunities and activities at LaGuardia. "There's always something going on at LaGuardia—it's such a big campus—there are so many opportunities to get involved and try new things. We're only at LaGuardia for a few years, so make the most of it!"
• • • •
LaGuardia Community College (LAGCC), located in Long Island City, Queens, educates thousands of New Yorkers annually through degree, certificate, and continuing education programs. LaGuardia is a national voice on behalf of community colleges, where half of all U.S. college students study. Part of the City University of New York (CUNY), the College reflects the legacy of our namesake, Fiorello H. LaGuardia, the former NYC mayor beloved for his championing the underserved. Since our doors opened in 1971, our programs regularly become national models for pushing boundaries to give people of all backgrounds access to a high quality, affordable college education.
####