LaGuardia Community College Red Hawks Rejoin the CUNY Athletic Conference for the 2022-23 Season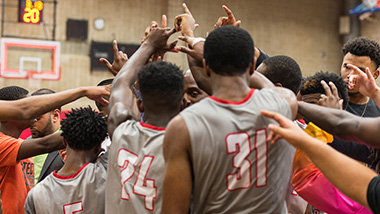 LONG ISLAND CITY, NY (AUGUST 2, 2022) — The LaGuardia Community College Red Hawks are rejoining the community college division of the City University of New York Athletic Conference (CUNYAC), effective for the 2022-23 academic year. With the addition of LaGuardia, CUNYAC is the official conference for 14 campuses of the CUNY system.
"CUNYAC is excited to welcome back the LaGuardia Red Hawks for the upcoming season, after a brief hiatus, and we look forward to supporting their student-athletes, coaches and staff as they return to athletics competition," said CUNYAC Interim Commissioner Carl Christian.
"Athletics have a unique way of bringing communities together, so restarting the Red Hawks following the past two and a half years of the COVID-19 pandemic will benefit our community and create a sense of team spirit," said LaGuardia Community College President Kenneth Adams. "Having an athletics program also benefits our recruitment efforts—drawing students interested in playing team sports during college. We look forward to cheering on our players. Go Red Hawks!"
"LaGuardia Community College is excited to have athletics back in Long Island City, Queens," said LaGuardia Director of Athletics and Recreation Andrew Walker. "The students, faculty, staff, and friends of LaGuardia are excited to cheer for their Red Hawks!"
The LaGuardia Red Hawks originally joined the CUNY Athletic Conference in 2013-14, enjoying success in their first stint with the conference. The LaGuardia women's basketball team won the league title in 2016, and the LaGuardia men's basketball team captured CUNYAC championships in 2016 and 2017. ( Click here for photos of a previous LaGuardia Red Hawks team in action.)
The first Red Hawks teams to restart are men's and women's cross country, men's soccer, and men's and women's basketball. Fall schedules for men's and women's basketball, and for men's soccer, are available on the LaGuardia website; additional schedules to be added soon.
LaGuardia Red Hawks teams will compete against teams from five CUNY community colleges—Queensborough, Kingsborough, Bronx, Hostos, and Borough of Manhattan. The Red Hawks will also compete against regional community college teams in the National Junior College Athletic Association (NJCAA) Division III Conference—Ulster, Westchester, Nassau, Suffolk, Rockland, Dutchess, Sullivan, and Monroe College-Bronx.
Student-athletes will be required to maintain a minimum 2.0 cumulative grand point average, in addition to meeting other eligibility requirements.
• • • •
ABOUT CITY UNIVERSITY OF NEW YORK ATHLETIC CONFERENCE
The City University of New York Athletic Conference (CUNYAC) is a NCAA Division III and NJCAA Division III conference with 14 members that reach across all five boroughs of New York City. Since officially coming into existence in 1987, the conference has been amongst the leaders in Division III with initiatives that focus on the student as much as the athlete in student-athlete. The conference sponsors 19 Four-Year College Championships, 13 Community College Championships, the Michael Steuerman Scholar-Athlete Awards Dinner, the Basketball Press Luncheon, the SAAC Leadership Seminar, the Coaches Rules Seminar, a CUNY-Wide Intramurals Championship Series, and the CUNYAC Golf Classic. With the help of four corporate sponsors, the conference has been ahead of the competition. CUNYAC boasts award-winning publications, award-winning events, unmatched television exposure, and one of the best websites in Division III while continuously searching for ways to improve the quality of the athletics experience.
LaGuardia Community College, located in Long Island City, Queens, educates thousands of New Yorkers annually through degree, certificate, and continuing education programs. Our guiding principle Dare To Do More reflects our belief in the transformative power of education—not just for individuals, but for our community and our country—creating pathways for achievement and safeguarding the middle class. LaGuardia is a national voice on behalf of community colleges, where half of all U.S. college students study. Part of the City University of New York (CUNY), the College reflects the legacy of our namesake, Fiorello H. LaGuardia, the former NYC mayor beloved for his championing the underserved. Since our doors opened in 1971, our programs regularly become national models for pushing boundaries to give people of all backgrounds access to a high quality, affordable college education.
####