LaGuardia Receives $350,000 from New York State to Install Offshore Wind Training Tower and Expand Training in Renewable Energy and Construction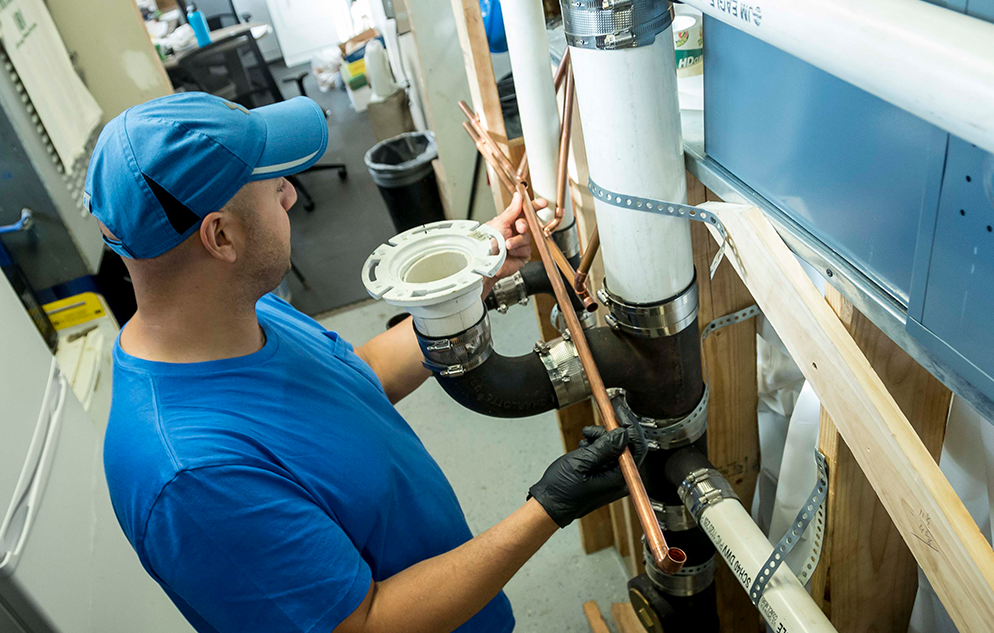 LONG ISLAND CITY, NY (July 12, 2023) — LaGuardia Community College/CUNY has been awarded $350,000 from the New York State Office of Strategic Workforce Development/ Empire State Development to expand job training for unemployed and underemployed New Yorkers in renewable energy and construction. The grant will enable LaGuardia to install an Offshore Wind Training Tower and new state-of-the-art facilities to boost electrical, plumbing, HVAC (heating, ventilation, and air conditioning), and offshore wind training programs on-campus.
LaGuardia was recently one of just 17 projects statewide—and one of just five in New York City—to receive funding in the latest round of the Workforce Development Capital and Pay for Performance Grant Programs, announced by Governor Kathy Hochul on June 28, 2023.
Senate Deputy Leader Michael Gianaris said, "This funding will help fulfill the critical need to expand our workforce in the green energy economy, and that's why I am proud to support serious programs like this. I'm glad LaGuardia Community College is putting state funding to work in this thoughtful fashion that will help more people have the careers they and our communities need."
CUNY Chancellor Félix V. Matos Rodríguez noted LaGuardia's commitment to providing opportunities for individuals to make better lives for themselves and their families through education. "This added support for workforce development programming at LaGuardia Community College will help prepare students for jobs in fast-growing, in-demand fields, and we are grateful to Governor Hochul and the New York State Office of Strategic Workforce Development for their support."
An Offshore Wind Working at Heights Training Tower will be installed on the grounds of the campus. Additionally, under-utilized space in the basement level of LaGuardia's Shenker Hall (the M building) will be converted into new electrical, plumbing, and HVAC training labs. Currently, these training programs are operated off-campus.
"We are grateful to Governor Hochul and the Office of Strategic Workforce Development for awarding LaGuardia this grant that will allow us to build facilities on campus where we can provide hands-on training for jobs in renewable energy and construction to more New Yorkers," said LaGuardia President Kenneth Adams. "Offering this training on campus enables us to train more New Yorkers, while providing numerous benefits for students. Importantly, we want them to feel that they are part of the LaGuardia college campus community."
With expanded, on-campus training facilities, waitlists will be reduced or eliminated; students will be exposed to more tools and equipment and have more opportunities to practice hands-on skills; and new day, evening, and weekend classes will be introduced. Being on-campus will give students convenient access to LaGuardia's extensive student support services, including a food pantry, benefits counseling, tax prep, referrals to legal services, low-cost childcare, mental health counseling, veterans benefits counseling, career services, college transition services, and more.
"The construction of on-campus labs will allow us to double the numbers of cohorts and students served by the Electrical 1 Training Program, which currently has a waitlist, as well as to launch a new Electrical 2 Training Program and make HVAC 1 Training Program available to the public on a regular semester schedule," said Hannah Weinstock, principal investigator of the new grant and senior director of Workforce Development at LaGuardia. "The labs will facilitate our ability to offer custom projects for renewable energy, transportation and construction companies, governmental agencies, unions, or trade associations."
Last year, LaGuardia became one of the first schools statewide to be awarded funding for offshore wind training. New York State is increasingly turning to offshore wind, a renewable energy source that generates electricity through the strong and consistent winds over oceans and lakes, to produce clean electricity and achieve full carbon neutrality. The U.S. is catching up to other parts of the world, such as Europe and China, which have already embraced offshore wind. In January 2022, LaGuardia and Hudson Valley Community College received a combined $569,618 to support programs at their respective institutions to prepare individuals from historically disadvantaged communities to work on the construction, repair, and maintenance of offshore wind facilities in the New York City area. LaGuardia is partnering with Siemens Gamesa, a renewable energy company, on the program.
Ms. Weinstock said there is an urgent need for new candidates for green energy and construction jobs. "With unprecedented investments in infrastructure improvements and a transition to clean energy being made at the federal, state, and city level, while many skilled workers are retiring, there is a need to train a new and diverse generation of workers for facilities maintenance, construction, transportation, and clean energy jobs."
Anyone interested in pursuing training in electrical, plumbing, or HVAC, should contact Continuing Education registration at (718) 482-7244 or ACEreg@lagcc.cuny.edu.
 • • • • 
LaGuardia Community College (LAGCC), a Hispanic-Serving Institution, located in Long Island City, Queens offers more than 50 degrees and certificates, and more than 65 continuing education programs to educate New Yorkers seeking new skills and careers. As an institution of the City University of New York (CUNY), the College reflects the legacy of our namesake, Fiorello H. LaGuardia, the former NYC mayor beloved for his advocacy of underserved populations. Since 1971, LaGuardia's academic programs and support services have advanced the socioeconomic mobility of students while providing them with access to a high quality, affordable college education.