LaGuardia Community College President Kenneth Adams Named to NYC Mayor-Elect Eric Adams' Economic and Workforce Development Transition Committee

December 7, 2021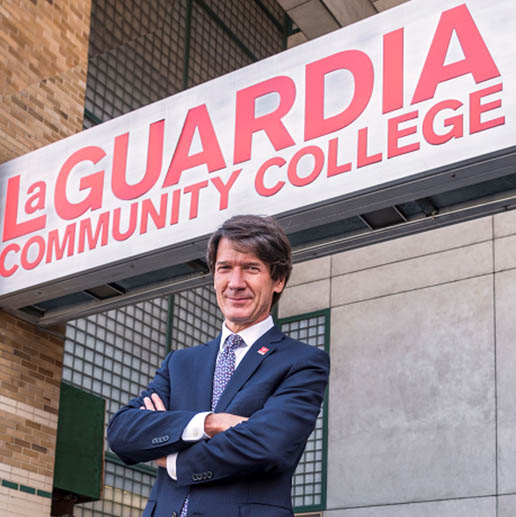 Long Island City, NY–LaGuardia Community College President Kenneth Adams will serve on Mayor-elect Eric Adams' Economic and Workforce Development transition committee, it was announced by the mayor-elect's transition organization, which unveiled what it referred to as "a diverse, talented group of experts, advocates and leaders committed to working together to improve New York City and prepare the Adams Administration to deliver for New Yorkers on Day 1."
President Adams has dedicated much of his career to workforce and economic development—first in local business development, then at the statewide level, and now in higher education.
"A recovery from the pandemic that is equal parts robust and just is critical to New York City's future economic viability and livability," said President Adams. "It is an honor to serve with great minds on this important committee. I look forward to helping equip the incoming administration with the ideas and insight it needs to retain our great city's standing as a world capital and ensure it continues to serve, as it has for generations, as a beacon of hope and opportunity to people the world over."
As LaGuardia, President Adams has secured millions of dollars in workforce grants and launched new workforce training scholarships and initiatives, since taking the helm in 2020. As example, he led a collaboration with Goldman Sachs Chairman and CEO David M. Solomon to launch the Goldman Sachs 10,000 Small Business Fellows program, in which business owners who have completed the entrepreneurship development program, Goldman Sachs 10,000 Small Businesses, host community college students for 12-week, hands-on, paid internships. President Adams and Mr. Solomon co-authored a CNN.com piece about the new program, and how community colleges can help expand employers' access to talented, motivated candidates to address hiring shortages.
Before joining LaGuardia, President Adams focused on creating career pathways to lead students into high-growth sectors of the city's economy as dean of workforce and economic development at Bronx Community College/ CUNY.
Previously, he served as acting commissioner of the New York State Department of Taxation and Finance, president and CEO of Empire State Development Corporation and commissioner of the New York State Department of Economic Development, president and CEO of the Business Council of New York State, and president of the Brooklyn Chamber of Commerce.
President Adams currently holds several volunteer roles—as chairman of the Boards of Directors of New York State's affordable housing agencies, including the Housing Finance Agency, the Housing Trust Fund Corporation, and the State of New York Mortgage Agency (SONYMA) for Homebuyers. He is also a director of the New York City Employment and Training Coalition, the Queens Chamber of Commerce Foundation, and Opportunity America.
Among those joining President Adams on the Economic and Workforce Development Committee are New York City Employment and Training Coalition CEO Jose Ortiz Jr.; Maria Torres-Springer of the Ford Foundation; Seth Pinsky of the 92nd Street Y; Margaret Anadu from Goldman Sachs; and Bertha Lewis of The Black Institute.
• • • •
LaGuardia Community College (LAGCC), located in Long Island City, Queens, educates thousands of New Yorkers annually through degree, certificate, and continuing education programs . LaGuardia is a national voice on behalf of community colleges, where half of all U.S. college students study. Part of the City University of New York (CUNY), the College reflects the legacy of our namesake, Fiorello H. LaGuardia, the former NYC mayor beloved for his championing the underserved. Since our doors opened in 1971, our programs regularly become national models for pushing boundaries to give people of all backgrounds access to a high quality, affordable college education.
####