LAGUARDIA COMMUNITY COLLEGE PRESENTS "THE NUTCRACKER," PERFORMED BY RENOWNED JOFFREY BALLET SCHOOL, ON SUNDAY, DECEMBER 18th
Attendees Will Be Invited to Visit SANTA in his Winter Toyland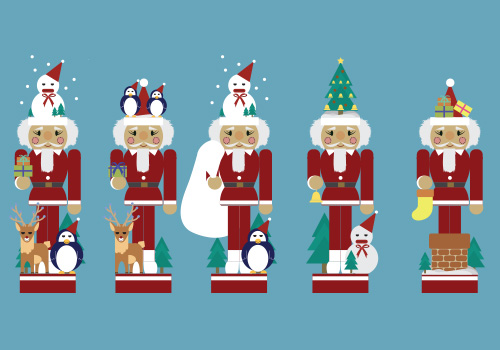 LONG ISLAND CITY, NY (December 09, 2022) — LaGuardia Community College/CUNY will present " The Nutcracker," a holiday tradition for Western Queens. Tickets ($20 per person) are available for purchase now. The performance will begin at 3:30 p.m. on Sunday, December 18th at the LaGuardia Performing Arts Center (LPAC).
"The Nutcracker" will be performed by the renowned Joffrey Ballet School, in a special production tailored for school-aged children and families (run time: one hour).
After the curtain falls, attendees will have the opportunity to meet and have photos taken with Santa in his magical Toyland, decorated by LPAC's professional theater production team.
The event will also feature musician Danny Kean, who will be decking the halls with sounds of the season in the theater lobby.
"LaGuardia supports the arts," said Kenneth Adams, president of LaGuardia Community College. "It is important for our community to have access to diverse artforms and performances, particularly a classic like the Nutcracker."
The Nutcracker ballet is based on "The Nutcracker and the King of Mice," written by E.T.A. Hoffman. It is the story of a young German girl who dreams of a Nutcracker Prince and a fierce battle against a Mouse King with seven heads.
WHAT: "The Nutcracker" (run time: 1 hour) performed by the Joffrey Ballet School, followed by an opportunity to meet and have photos taken with Santa in his magical Toyland
WHERE: The LaGuardia Performing Arts Center at LaGuardia Community College (31-10 Thomson Ave., Long Island City, NY 11101)—guests are invited to enter via the Performing Arts entrance on Van Dam St. near the corner of 47th Ave.
WHEN: Sunday, December 18, 2022, at 3:30 p.m.
CLICK HERE TO PURCHASE TICKETS ($20 PER PERSON)
VISITOR POLICY: Before entering the theater, visitors will need to provide identification and proof of full vaccination with an FDA authorized vaccine or a negative PCR test given within 7 days of the performance. Children age 5 and under are not required to have a PCR test. Masks are strongly encouraged.
• • • •
LaGuardia Community College (LAGCC), located in Long Island City, Queens, educates thousands of New Yorkers annually through degree, certificate, and continuing education programs. LaGuardia is a national voice on behalf of community colleges, where half of all U.S. college students study. Part of the City University of New York (CUNY), the College reflects the legacy of our namesake, Fiorello H. LaGuardia, the former NYC mayor beloved for his championing the underserved. Since our doors opened in 1971, our programs regularly become national models for pushing boundaries to give people of all backgrounds access to a high quality, affordable college education.
####