LaGuardia Political Science Major Nicholas Hetherington Applies
Theater Background to Public Service Career
LONG ISLAND CITY (January 17, 2023) — LaGuardia Community College/CUNY is known for its diverse campus, made up of students who come from all over the world seeking to write their own future through higher education. Nicholas "Nick" Hetherington, from London, England, is an example of the type of student who is taking advantage of opportunities and services offered by LaGuardia to redirect his career path and find personal growth.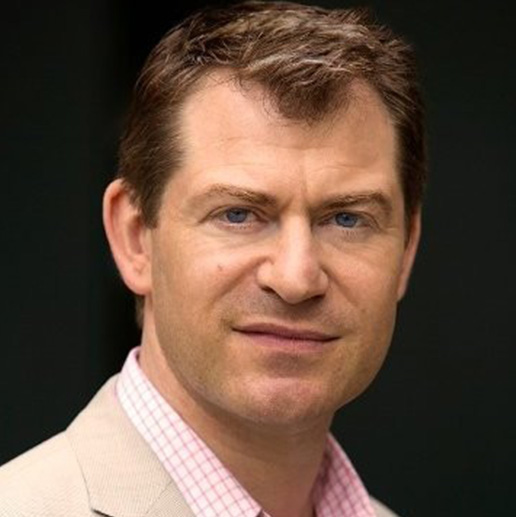 Nick, in his mid-40s, is currently pursuing a degree in Liberal Arts: Political Science.
This follows his almost 35-year career in theater, which began at age seven.
"I remember being enchanted by a play I attended with my parents," said Nick. "As we say in the theater business, I got bitten by the bug really early."
By age 14, Nick was working professionally at a theater in Northampton, England. After high school, he enrolled in drama school and continued his theatrical pursuits in New York City, where he moved at age 21.
But by his mid-40s, Nick had become disenchanted with the entertainment industry.
"I had been doing theater for so long and was getting restless," said Nick. "Then the pandemic hit New York City and productions I'd been working on were postponed indefinitely. This gave me time to contemplate my future. I concluded that I was ready for a reset and needed to earn my college degree. I enrolled at LaGuardia in the fall of 2021," said Nick.
Choosing to major in political science was an obvious choice for Nick, following his years of social advocacy work.
"I was raised by two mothers, so I've always fought for the LGBTQ community," said Nick. "I was the New York City chapter leader for COLAGE (Children of Lesbians and Gays Everywhere) from 2001–2011."
At LaGuardia, Nick has achieved a 3.9 GPA and is a member of the Phi Theta Kappa International Honors Society.
"I can't say enough about how much I've learned at LaGuardia; I've enjoyed my courses very much," said Nick. "I've always been interested in U.S. politics, but I'd never followed New York City politics until a course on that topic changed that. A course on political ideology taught me how different ideologies, such as democratic socialism, fascism, and nationalism, can be weaponized to divide a citizenry. Because of LaGuardia, I've become incredibly passionate about political science and want to keep studying it."
While he pursues his studies, Nick is participating in activities—at LaGuardia and in the community—where he's gaining valuable experience in public service.
He is currently an intern with a New York congressional representative, an opportunity he found through Professor Eric Radesky, who taught the course on NYC politics, called "Practical Politics of NYC," that Nick took. In addition, Nick volunteers with Big Brothers Big Sisters of America.
At LaGuardia, he works as a peer leader, a paid position, with the Center of Teaching and Learning for the Social Science Department, and served on a College Senate committee, from October 2021–October 2022, examining students' preferences for different learning modalities.
Nick plans to graduate from LaGuardia in June 2023 and then pursue a bachelor's degree at Columbia University or a CUNY four-year college. His goal is to embark on a career where he can make a positive impact on economic and social justice, particularly for underserved communities.
"I'm interested in public housing and playing a part in helping to shrink the homeownership gap for minority citizens," Nick said.
Nick plans to use his public speaking skills that he honed in theater, in his new career in public service.
"I always saw acting and writing as a conduit to doing something more important," he said.
Nick is grateful LaGuardia has helped him prepare for his next chapter.
"When I decided to stop doing theater and jump into public service with both feet, I realized that I'd be starting over," Nick said. "It was scary, but LaGuardia is helping me get there, one semester at a time."
• • • •
LaGuardia Community College (LAGCC), located in Long Island City, Queens, educates thousands of New Yorkers annually through degree, certificate, and continuing education programs. LaGuardia is a national voice on behalf of community colleges, where half of all U.S. college students study. Part of the City University of New York (CUNY), the College reflects the legacy of our namesake, Fiorello H. LaGuardia, the former NYC mayor beloved for his championing the underserved. Since our doors opened in 1971, our programs regularly become national models for pushing boundaries to give people of all backgrounds access to a high quality, affordable college education.
####