LaGuardia Performing Arts Center Hosts 'Hip Hop 50,' Queens Public Library's 50th Anniversary Celebration of the Founding of Hip Hop

LONG ISLAND CITY, NY (August 3, 2023) — The LaGuardia Performing Arts Center at LaGuardia Community College/CUNY is hosting the Hip Hop 50 Summit, Queens Public Library's 50th anniversary of the founding of hip hop. The two-day event, August 3–4, is a celebration and exploration of the origins of hip hop and its transformation into an enduring global phenomenon. The lively event is marked by beatboxing, DJs spinning tunes, performances by dance troupes, a fashion show, exhibitions on graffiti and other related art forms, and impromptu electric slides and other revelry by event staff and attendees.
The summit is being emceed by LaGuardia graduate Ralph McDaniels, Queens Public Library's Hip Hop Coordinator and Video Music Box Founder, and his co-host DJ G$Money.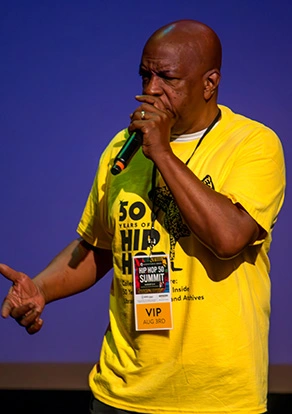 Kenneth Adams, president of LaGuardia Community College, gave welcoming remarks to the several hundred individuals in attendance at the summit kickoff. Attendees included hip hop fans from near and as far away as Japan, youth interested in learning about hip hop culture, and members of the LaGuardia community.
The personal and global influence of hip hop was highlighted by New York City Public Advocate Jumaane Williams.
"Hip hop music and culture is the story of my life—the soundtrack of my life—as it is for so many people. It's just so amazing to be able to come and celebrate. I hope young people can see themselves in these stories, these celebrations. That's important because hip hop… is now a multi-billion-dollar industry all across the world," said Williams, who then demonstrated his beatboxing skills to cheers and clapping from the audience.
Panel discussions on the history of hip hop and its cultural, social and economic impact with hip hop pioneers, performers, and scholars including Darryl McDaniels of Run-DMC and KRS-One, the singer Lumidee, Universal Hip Hop Museum Founder and Executive Director Rocky Bucano, and VIBE Editor-in-Chief Datwon Thomas.
Darryl McDaniels spoke about the struggles in getting a record deal back when RUN-DMC started, sharing that they were turned down by multiple record companies because their songs weren't meeting music executives' stereotypes about hip hop. Their songs weren't about sex, drugs, violence.
"Hip hop to me is keeping it real. I rap about what's real to me. Christmas in Hollis Hills with my mom cooking chicken and collard greens," said Darryl McDaniels.
Darryl McDaniels discussed the importance of film and other social mediums to hip hop. "Film is very important in legacy of hip hop. MTV put hip hop in living rooms everywhere. Hip hop is visual, it tells stories. We need to use these mediums to tell the story of a single mom raising five kids while working three jobs. Social media is a network. Everything is content."
He also spoke about starting a comic book company nine years ago, and urged young people in the audience to be true to what they love. "Don't be ashamed of everything that you are. What makes you cool are not the things that you want to show your boys and girls and friends," he said.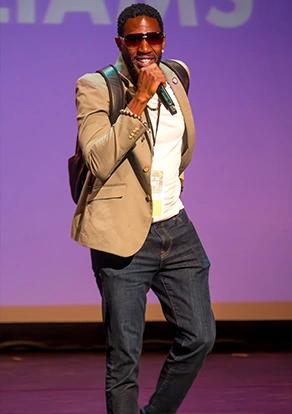 Summit attendees were invited to sign up for QPL's Special Edition Hip Hop Card. The New York Public Library and Brooklyn Public Library also distributed special edition hip hop cards.
"Recognizing, celebrating and preserving hip hop, as well as exploring its roots, influence and impact, are critical to understanding the history of New York City, our nation, and entire generations that connect and express themselves through this cultural phenomenon," said Queens Public Library President and CEO Dennis M. Walcott. "We are thrilled to host the Hip Hop 50 Summit in the borough of Queens, which has played a significant role in hip hop's rise from a local art form to a global movement."
Walcott thanked the Institute of Museum and Library Services (IMLS), for providing critical funding for the summit, as well as the NYC Department of Youth & Community Development (DYCD) for supporting the event.
Highlights of the summit on Friday, August 4 include:
10–11:15am: "The Message: Media, Technology and the Future," a conversation with VIBE Magazine Editor-in-Chief Datwon Thomas, YouTube Black Music & Culture Director Tuma Basa, Microsoft Senior Attorney Bruce Jackson and DJ TedSmooth about the intersection of hip hop, the media and technology. Moderated by Rocky Bucano, founder and executive director of Universal Hip Hop Museum.
2:30–3:45pm: "Fight the Power: Social Justice and Education," a panel featuring Dr. Christopher Emdin, founder of the #HipHopEd social movement, DJ and Co-Founder of Hip Hop Blvd NYC Al Pizarro, hip hop artist and criminal justice reform activist Mysonne Linen, and Lennox Yearwood Jr., president and CEO of the Hip Hop Caucus, a nonprofit that connects the hip hop community to the civic process. They will discuss hip hop as a legitimate vehicle for social change and how artists have traditionally responded to violence and injustice within their communities.
DJ Wiz and DJ Chuck Chillout from WBLS 107.7 FM provided the soundtrack for the summit, and there will be several interactive performances, a fashion slideshow and a graffiti exhibit.
To see a full list of panels and events, visit HipHop50Summit.eventbrite.com. The event is free to attend, but tickets are limited and required for entry.
More information about Hip Hop 50 is available from the Queens Public Library.
• • • •
LaGuardia Community College (LAGCC), a Hispanic-Serving Institution, located in Long Island City, Queens offers more than 50 degrees and certificates, and more than 65 continuing education programs to educate New Yorkers seeking new skills and careers. As an institution of the City University of New York (CUNY), the College reflects the legacy of our namesake, Fiorello H. LaGuardia, the former NYC mayor beloved for his advocacy of underserved populations. Since 1971, LaGuardia's academic programs and support services have advanced the socioeconomic mobility of students while providing them with access to a high quality, affordable college education.
####