LAGUARDIA COMMUNITY COLLEGE EXPANDS ON-CAMPUS CHILDCARE TO INFANTS AS YOUNG AS SIX MONTHS OLD—ENABLING MORE STUDENT-PARENTS TO PURSUE COLLEGE DEGREES AND OTHER OPPORTUNITIES AT LAGUARDIA
New program made possible by a $2.7M grant from U.S. Education Department, as well as support from Robin Hood Foundation and CUNY Family Empowerment program
—U.S. Education Department grant will also enable ECLC to provide reduced fees (as low as $1 per week) to more single parents and families in need, increase capacity by 25–30%, and expand its Parent Wellness Program—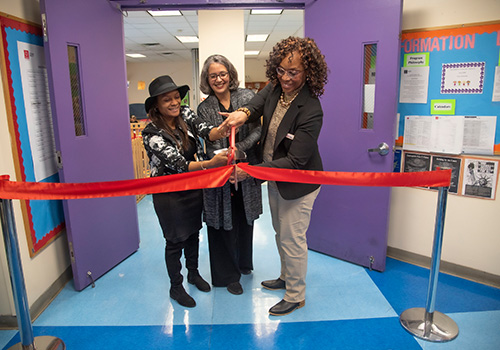 LONG ISLAND CITY, NY (December 09, 2022) — LaGuardia Community College/CUNY has expanded on-campus childcare to infants as young as six months old—enabling more student-parents to attend classes, study, work, and pursue internships. Previously, 12 months was the youngest age served by the college's Early Childhood Learning Center (ECLC), one of the oldest and largest childcare centers within the CUNY system. A ribbon cutting on December 1 marked the expansion, made possible by a $2,714,884 grant from the U.S. Education Department's Child Care Access Means Parents in Schools (CCAMPIS) program.
In addition to supporting ECLC's new early infant care program, the four-year CCAMPIS grant (2022–2026) enables ECLC to provide reduced fees (as low as $1 per week) to more single parents and families in need, increase capacity by 25–30%, and expand its Parent Wellness Program.
Additional funding support for the new early infant care program was provided by the Robin Hood Foundation and from the CUNY Family Empowerment program.
"We are grateful to the U.S. Education Department, the Robin Hood Foundation, and to CUNY, for their support that's enabling our Early Childhood Learning Center to expand services to infants as young as six months old. This fulfills a critical need for our student-parents," said Kenneth Adams, president of LaGuardia Community College. "The high-quality, subsidized, low-cost childcare provided by our ECLC makes college possible and affordable for parents."
"Our ECLC is a critical intergenerational program for our community. We are thrilled that now student-parents with even younger children will be able to access the center's high-quality, affordable childcare—often for as little as $1/week. As well, more parents will receive social emotional support through its innovative Parent Wellness Program," said Dr. Billie Gastic Rosado, provost and senior vice president of Academic Affairs, LaGuardia Community College.
ECLC's expanded Parent Wellness Program builds upon its Student-Parent Initiative launched in 2021. The initiative aimed at breaking cycles—teaching parents positive parenting methods. In addition, the initiative provides parents with mental health support—particularly low-income single parents and survivors of childhood trauma. The expanded program will provide student-parents with an intentional and preventative focus on trauma-informed social, emotional and mental health; address post-pandemic stressors to expand access to early intervention assessments, referrals, and services for children enrolled in the childcare program and the larger student-parent community; and collaborate with internal and external partnerships in support of the wellness series.
The ribbon cutting was attended by CUNY leaders Denise Maybank, vice chancellor for Student Affairs and Kisha Fuentes, university manager of Child Care, representatives of ECLC educational partners including Quality Stars NY, as well as ECLC Board members, teachers, and staff.
About LaGuardia's Early Childhood Learning Center (ECLC)
"We serve children up to age 12 through early childhood, Pre-K for All, after school, Saturday programs, and summer camps to make it possible for our student-parents to concentrate on their studies, attend classes, pursue internships, and more, while knowing that their children are nearby being well-cared for, learning, and having fun," said Sonya Evariste (LaGuardia'93), director of the ECLC and project manager of LaGuardia's CCampis grant. "In addition to serving LaGuardia student-parents, we serve those at the CUNY Law School, as well as LaGuardia faculty, staff, and community members. And we don't just serve children, we serve the entire family with mental health support services for parents and subsidies for low-income parents."
When the ECLC opened in 1978, LaGuardia became one of the first colleges within the CUNY system to have an on-campus childcare program for student-parents. With ECLC, student-parents can go to class, study, work a job or internship, with the ease mind knowing that their children are being well taken care of, learning, and having fun.
In the nearly 45 years since LaGuardia's ECLC opened, approx. 25,000 children of LaGuardia and CUNY Law student-parents, faculty, staff, and community members have been served by its dedicated and caring teachers, administrators, and staff. Its teachers and staff reflect the diversity of LaGuardia and Queens, with teachers speaking multiple languages, including Russian, Georgian, Arabic, French, Mandarin, and Spanish.
ECLC is a teaching site. The NYC Department of Education regularly brings in administrators and teachers from other schools for observation/ learning. It also provides field experience internships for LaGuardia early childhood majors. In fact, most staff are LaGuardia graduates. "ECLC recruits, retains, and employs," said Ms. Evariste.
LaGuardia's ECLC holds national accreditation from the National Association for the Education of Young Children (NAEYC). It is licensed by the New York City Department of Health and Mental Hygiene and the New York State Office of Children and Family Services. It is affiliated with the New York State Education National Accreditation, the National Association for the Education of Young Children, and the NYC Department of Education.
LaGuardia's ECLC has held a CCAMPIS grant since 2018. It was renewed in August 2022 through 2026.
• • • •
LaGuardia Community College (LAGCC), located in Long Island City, Queens, educates thousands of New Yorkers annually through degree, certificate, and continuing education programs. LaGuardia is a national voice on behalf of community colleges, where half of all U.S. college students study. Part of the City University of New York (CUNY), the College reflects the legacy of our namesake, Fiorello H. LaGuardia, the former NYC mayor beloved for his championing the underserved. Since our doors opened in 1971, our programs regularly become national models for pushing boundaries to give people of all backgrounds access to a high quality, affordable college education.
####