LAGUARDIA COMMUNITY COLLEGE KICKS-OFF SECOND PILOT YEAR OF PROGRAM DESIGNED TO HELP LOCAL SMALL BUSINESSES WITH LABOR CRUNCH
Through Goldman Sachs 10,000 Small Businesses Fellows, LaGuardia Students are Placed in Hands-On Internships with Local Small Business Owners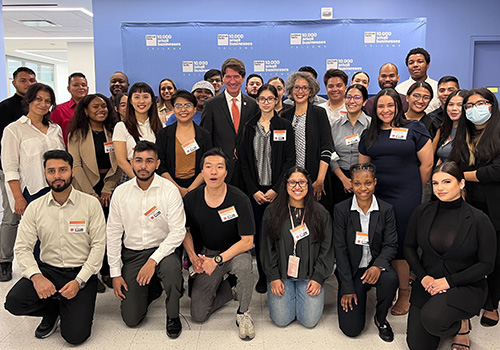 LaGuardia Community College students and small business owners celebrate the kick-off of the second pilot year of the
Goldman Sachs 10,000 Small Businesses Fellows program. Pictured at center are LaGuardia President Kenneth Adams (in red tie)
and LaGuardia Provost Dr. Billie Gastic Rosado (in white and black polka dot shirt)
LONG ISLAND CITY, NY (September 12, 2022) — Earlier today, LaGuardia Community College/CUNY hosted the kickoff of the second pilot year of the Goldman Sachs 10,000 Small Businesses Fellows . LaGuardia students and local small business owners came together to celebrate the fall semester launch of the innovative workforce development program, designed to strengthen New York's local talent pipeline by creating opportunities for under-tapped community college students, while addressing the growing labor shortage for New York small businesses. The program places LaGuardia students in hands-on internships with local small business owners who graduated from the Goldman Sachs 10,000 Small Businesses program at LaGuardia. LaGuardia is one of four sites across the country piloting the Fellows program.
"During the pandemic, my business struggled with finding and hiring high-quality talent, so Fellows has been a godsend for me," said Tuesday Brooks, CEO of AJOY. "Just this year, my business won a state subcontract that wouldn't have been possible without the help of my Fellow. My business is doing better than ever, and I will forever be grateful to LaGuardia Community College and Goldman Sachs for connecting me with a talented and driven fellow."
"LaGuardia Community College students are incredibly talented and key to fortifying our local workforce. I'm confident that their experience working with a small business through Goldman Sachs 10,000 Small Businesses Fellows will complement their studies and greatly impact their future careers," said Kenneth Adams, President, LaGuardia Community College. "When it comes to solving the talent crunch in New York, innovative workforce development programs for community college students is key. I look forward to continuing this partnership with Goldman Sachs."
Goldman Sachs 10,000 Small Businesses Fellows is addressing one of the largest issues facing small businesses today—the labor shortage. By connecting local small business owners to talented community college students through fully funded internships, Fellows creates meaningful work opportunities for students while easing the burden of hiring and retaining talent for small businesses. The initiative supports the future of New York's local workforce and small business community.
A survey by Goldman Sachs 10,000 Small Businesses Voices found that 84% of small businesses said hiring challenges have worsened in the past three months, with 87% of those hiring finding it difficult to recruit qualified candidates. Though they remain resilient, 89% support policymakers taking action to help address small business workforce challenges.
"Small businesses are the backbone of our country, but they're also the first to face economic headwinds, especially during the pandemic. Goldman Sachs research reveals that accessing a talented workforce pipeline is a major challenge for small businesses throughout the country, so we created 10,000 Small Businesses Fellows to tackle this issue," said Asahi Pompey, President of the Goldman Sachs Foundation. "We're honored to work with LaGuardia Community College, one of our longest standing partners, to connect their talented students to our local 10,000 Small Businesses alumni through hands-on internships."
Forthcoming research by Goldman Sachs demonstrates the early success of the Fellows program. Eighty-one percent of small businesses said that the internship created value for their business and met a business need. On average, the estimated value of the Fellow's contribution to the business was over $8,500. Eighty-seven percent of students stated that the internship was a meaningful work experience, while 83% noted that they gained new skills and knowledge that would be helpful for the future. The research also outlines several policy recommendations including increased investment in next-generation training programs and workforce development opportunities.
"I'm so grateful to be part of this program. Prior to being a Fellow, I had no professional work experience and didn't understand the day-to-day of running a small business or working in the technology field," said Debanjan Mazumder, a Computer Science major at LaGuardia Community College and fellow at StemKasa. "Thanks to Goldman Sachs' 10,000 Small Businesses Fellows program, I gained valuable work experience and developed skills for future professional opportunities. In the Spring of 2022, I was able to leverage my work experience from the Fellows program to secure my first internship in software engineering."
• • • •
LaGuardia Community College (LAGCC), located in Long Island City, Queens, educates thousands of New Yorkers annually through degree, certificate, and continuing education programs. LaGuardia is a national voice on behalf of community colleges, where half of all U.S. college students study. Part of the City University of New York (CUNY), the College reflects the legacy of our namesake, Fiorello H. LaGuardia, the former NYC mayor beloved for his championing the underserved. Since our doors opened in 1971, our programs regularly become national models for pushing boundaries to give people of all backgrounds access to a high quality, affordable college education.
Goldman Sachs 10,000 Small Businesses Fellows addresses small businesses' workforce needs that are crucial to growth by deepening the connection to under-tapped community college students. Fellows is an extension of Goldman Sachs 10,000 Small Businesses, which has invested $750 million to help small businesses across the U.S. create jobs and economic growth through education, support services and access to capital. 
####