LaGuardia Honors Women's History Month with Film Series
and a Movement & Reflection Event
Highlighting the Triumphs of the Women's Movement and New Challenges in the Age of COVID-19
March 1, 2021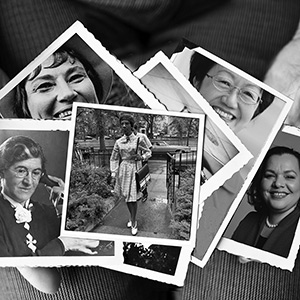 LaGuardia Community College is marking Women's History Month with a virtual film viewing series celebrating Black and LGBTQIA+ documentaries, and a movement and reflection event hosted by the CUNY Women's Council. These events, together with other events throughout CUNY, highlight the progress made in the battle for women's equality and examine the work that lies ahead, particularly in the age of COVID-19.
Film Fridays: Sighted Eyes, Feeling Heart: LaGuardia Community College's Women Center and LGBTQIA Safe Zone Hub present "Sighted Eyes, Feeling Heart," the first-ever feature documentary about Lorraine Hansberry, the visionary playwright who authored the groundbreaking "A Raisin in the Sun." March 19, 1–3 p.m.
CUNY Women's Council presents Embodied Poetics featuring Aimee Cox : Embodied Poetics (for self-identified women), led by Dr. Aimee Cox, dancer, yogi and associate professor at Yale University, will use the poetry of a woman of color as the embodied inspiration for accessible yoga and guided free form movement, with time to write and reflect on responses to the poetry and the movement – writing their own embodied poetics! March 23, 4–5:15 p.m.
Film Fridays: Free CeCe: LaGuardia Community College's Women Center and LGBTQIA Safe Zone Hub present "Free CeCe." Told through the voices of Laverne Cox and CeCe McDonald, this film examines prison injustice through CeCe's journey as a trans women sentenced in men's prison. March 26, 1–3 p.m.

"While CUNY takes great pride in empowering the women who are our students, faculty and staff, amplifying their voices and celebrating their contributions to the ongoing battle against gender discrimination, we will indeed 'keep things going' until women realize full equality in all sectors of our society," said Chancellor Félix V. Matos Rodríguez.
For the full slate of events planned in celebration of Women's History Month across CUNY click here.
• • • •
LaGuardia Community College (LAGCC), located in Long Island City, Queens, educates thousands of New Yorkers annually through degree, certificate, and continuing education programs . LaGuardia is a national voice on behalf of community colleges, where half of all U.S. college students study. Part of the City University of New York (CUNY), the College reflects the legacy of our namesake, Fiorello H. LaGuardia, the former NYC mayor beloved for his championing the underserved. Since our doors opened in 1971, our programs regularly become national models for pushing boundaries to give people of all backgrounds access to a high quality, affordable college education.
####