LaGuardia Expands its Global Initiatives After Leading Historic Cross-CUNY Global Scholars Achieving Career Success Grant

LONG ISLAND CITY, NY (September 6, 2023) — Shari Clark has gone through a long and arduous journey to get to where she is today: on the precipice of beginning her Electronic Design and Multimedia B.F.A. at City College. Her last, graduating semester at LaGuardia Community College led her to one part of her journey that she did not expect, namely, a Collaborative Online International Learning (COIL) project with students at the American University in Cairo (AUC).
Her Art History Professor Arianne Fernandez, led Shari and her classmates through a virtual exchange program that explored clean water and sanitation in the U.S. and Egypt as part of a program called Global Scholars Achieving Career Success (GSACS). By learning about the water challenges that her peers in Egypt face, Shari reflected on the water challenges we face in the U.S., including frequent water shut-offs and days without hot water in the New York City Housing Authority building where she grew up in Brownsville, Brooklyn.
"It's important to step outside the box and meet new people and be opened up to new perspectives around the world, not only just where you live," said Shari, speaking to the merits of COIL programs. "You want to open yourself to be diverse."
Following the ice-breaker activity with AUC students and comparative discussions about water challenges in the U.S. and Egypt, Shari and her LaGuardia peers created art works that addressed these challenges. AUC students in turn analyzed and critiqued them as part of their course in rhetoric.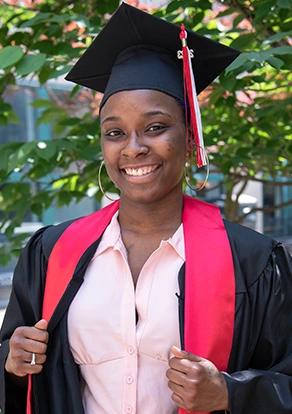 The ability to learn with students in Egypt about issues of global importance that are less often highlighted in the U.S., for instance, the region's conflict over the Grand Ethiopian Renaissance Dam, has opened Shari's eyes to global study and the sociopolitical impact of her art. On a personal level, Shari has shifted away from abstractions in her art to a style that is more representational and conveys a political message.
In her academic life, Shari hopes to connect with more international students, including studying abroad during her four-year degree. Shari hopes to convey the importance to other students to "Get out there. Have fun meeting people from new cultures. The more cultures collaborating, the better vision we have for this world. The more perspectives, the better."
Through GSACS Professor Fernandez, a LaGuardia alumna, also made advancements in her pedagogy. making new connections in her own department with Professor Dahlia Elsayed, as well as her colleague at AUC, Professor Doris Jones who teaches courses in rhetoric. Professor Fernandez is confident that their GSACS connection will lead to future collaborations.
Describing the cultural competency and empathetic practices that arose in the virtual exchange, which took place during the month of Ramadan, Professor Fernandez says students at LaGuardia learned how to take care of their fellow students halfway across the world. Many LaGuardia faculty and staff were familiar with traditions during Ramadan in the U.S., but they did not realize how in a Muslim-majority country, the pace of life, scholastic, and professional schedules change during Ramadan to accommodate the many fasting practitioners.
"I think it is so important for our students to understand all the cultures, and they also get to connect with students who are going through what they're going through," said Professor Fernandez, "and it allows us to see that we're not so different. We think we are, but we're not."
LaGuardia successfully concluded the virtual exchange program Global Scholars Achieving Career Success that was supported by the J. Christopher Stevens Virtual Exchange Initiative (JCSVEI). JCSVEI  is a U.S. Department of State's Bureau of Educational and Cultural Affairs program administered by the Aspen Institute. The Stevens Initiative is an international leader in virtual exchange, advocating for and investing in virtual exchange opportunities for young people worldwide. Under LaGuardia's leadership, the GSACS program connected students at LaGuardia, BMCC, Guttman, Hostos, and Queens College, with students at Abdelmalek Essaâdi University, The American University in Cairo, Jordan University of Science and Technology, and Palestine Ahliya University through virtual exchanges. Over 2,600 students were meaningful participants in the program across New York City and the Middle East, and for most of them this was the first virtual exchange experience.
GSACS was the first cross-CUNY COIL program in the University system's history and represents a major advancement in international learning. This is particularly true for CUNY's community college students, who often have less access to collaborations with students based in other countries than their peers at four-year colleges.
Shari's cohort was part of the end of this grant and represents a new stage of development of COIL at LaGuardia and across CUNY. LaGuardia is poised to launch an Office of Experiential and Global Learning. Connections between students and faculty members made through GSACS will continue into future COIL initiatives.
CUNY efforts to enhance COIL have strengthened, and an open resource for faculty members wishing to implement a virtual exchange component in their classes is under development. "We're really, really lucky that we have this (COIL) here," said Professor Fernandez.
NOTE: This article was written by Emma Handte, OER Instructional Technologist and GSACS Project Coordinator.
• • • •
LaGuardia Community College (LAGCC), a Hispanic-Serving Institution, located in Long Island City, Queens offers more than 50 degrees and certificates, and more than 65 continuing education programs to educate New Yorkers seeking new skills and careers. As an institution of the City University of New York (CUNY), the College reflects the legacy of our namesake, Fiorello H. LaGuardia, the former NYC mayor beloved for his advocacy of underserved populations. Since 1971, LaGuardia's academic programs and support services have advanced the socioeconomic mobility of students while providing them with access to a high quality, affordable college education.
####