LaGuardia Community College's Award-Winning Theater Program Presents Big Love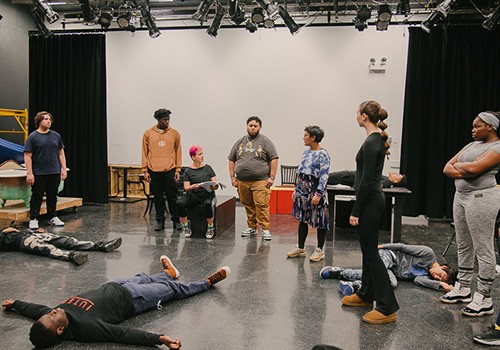 LAGCC students rehearse for Big Love on May 1
LONG ISLAND CITY, NY (May 2, 2023) — The award-winning Theater Program at LaGuardia Community College/CUNY is putting on a production of Big Love, a tragic yet hilarious play that takes the plot of an ancient Greek play into modern times. Tickets are available now for shows running May 17–20 at the LaGuardia Performing Arts Center (LPAC).

"We chose Big Love for our spring production because it's an ensemble show that offers many unique challenges for our students," said James Ryan (J.R.) Caldwell, LaGuardia theater lecturer and Big Love director. "The students must embody and understand controversial points of views, fluently speak poetic and complex text, hurl themselves to the ground (safely), learn fight choreography, sing, and dance. As a result, this show tests them and pushes our students to expand their abilities."

"I look forward to seeing our students explore this challenging play on stage," said Professor Stefanie Sertich, director of LaGuardia's Theater Program. "J.R. is an experienced theater maker and this is his first production with LaGuardia Community College. I'm glad it's one he's so excited about. Welcome to LaGuardia, Professor Caldwell!"

Big Love is a tragicomic, modern re-telling of one of the western world's oldest plays, The Danaids by Aeschylus. It tells the story of 50 brides fleeing arranged marriages to their 50 cousins and seeking refuge in a villa on the coast of Italy. When the 50 grooms catch up with the brides demanding they honor their contracts, mayhem ensues: the brides and grooms sing, dance, throw epic tantrums, make vulnerable confessions, and eat cake. Big Love deals with themes of refugeeism, gender roles, dysfunctional relationships, and ultimately love. It raises questions about the institution of marriage and shows that there are no easy answers to some of life's biggest problems. Big Love was written by Charles L. Mee, and was first performed in 2000.

Big Love will be on stage at the LaGuardia Performing Arts Center, 31-10 Thomson Ave, Long Island City, NY 11101 — suggested entrance: Van Dam St. near 47th Avenue.

Click here to reserve tickets through the LaGuardia Performing Arts Center.

Performance dates:
Wednesday, May 17, 2:30 p.m. — Dress Rehearsal with audience — FREE (reservations requested)
Wednesday May 17, 7:30 p.m. — Opening Night
Friday, May 19, 2:30 p.m.
Friday, May 19, 7:30 p.m.
Saturday, May 20, 2:30 p.m.
Saturday, May 20, 7:30 p.m.

LaGuardia students and recent graduates who are part of the Big Love production include:

Crew: Theater majors D'Amari Brown, Bryan Feliciano, Christian Houston, and Morticia Salazar; and Liberal Arts: Social Science and Humanities major Tsumugi Fukuda

Cast: Theater majors Isaias Aragon, Cheyenne Campbell, Jaden Collins, Viktoriya Gurskaya, Michael Hernandez, Annabelle Paez, Jermaine Parker, Liz Pratt, Jason Rodriguez, and Christian Torres; recent Theater Program graduates Bambo Coulibaly and Raven Furs; and Film and Television major Isabella Rivera

LaGuardia's Theater Program leads to an Associate of Science (AS) degree and provides students with skills and knowledge necessary to pursue a wide spectrum of careers in the theater. Under Professor Sertich's direction since 2011, LaGuardia students have been awarded numerous honors and awards at the Kennedy Center American College Theater Festival, competing against students from two-year and four-year colleges and conservatories nationwide in the areas of acting, directing, arts management, dramaturgy, playwriting, design, and tech management. Program graduates regularly transfer to audition-based theater programs and have been selected for competitive scholarships to theater conservatory programs.
• • • •
LaGuardia Community College (LAGCC), a Hispanic-Serving Institution, located in Long Island City, Queens offers more than 50 degrees and certificates, and more than 65 continuing education programs to educate New Yorkers seeking new skills and careers. As an institution of the City University of New York (CUNY), the College reflects the legacy of our namesake, Fiorello H. LaGuardia, the former NYC mayor beloved for his advocacy of underserved populations. Since 1971, LaGuardia's academic programs and support services have advanced the socioeconomic mobility of students while providing them with access to a high quality, affordable college education.
####