LaGuardia Community College Students Get Virtual Passports Stamped
"Virtual exchanges" enabled through the College's global learning initiative
Recently, LaGuardia students connected with students from the University of Nicosia (Cyprus) to consider the public education systems in the U.S. & Cyprus
April 21, 2020
Students from LaGuardia Community College and the University of Nicosia in Cyprus recently held online discussions about the public education systems in the U.S. and Cyprus. Through the college's global learning initiative, collaborations like this give students access to the benefits of an international exchange program without leaving New York City. These "virtual exchanges" are being used with more frequency to provide LaGuardia students with cost-free opportunities to learn about divergent perspectives, and how to communicate across differences with respect.
"Our students typically have less opportunities and means to study overseas, as compared to students from four-year colleges. Virtual exchanges are an affordable, sustainable way to facilitate international connections. Students build their global communication skills, which are prized in today's 21st century workforce," said LaGuardia Community College Interim Provost Nireata Seals, Ed.D. "In light of travel restrictions as a result of the COVID-19 public health emergency, as well as the rising globalization of the world, we expect this platform to continue to grow in its use and importance."
These virtual exchanges are enabled through LaGuardia's global learning initiative, known as Collaborative Online International Learning (COIL), a teaching method that facilitates students' global awareness, cross-cultural and cross-linguistic communication through interactive online practices. Modeled after SUNY COIL, faculty connect their courses with courses abroad. Students engage in facilitated discussions, collaborative projects, and groupwork, using digital tools, such as video chat and web blogs, which are integrated into the classroom curricula.
Since the program's inception at LaGuardia in 2016, 32 courses have benefited from COIL projects with colleges and universities in countries including Bangladesh, Brazil, the Cayman Islands, Colombia, Dominica, French Guiana, India, Japan, Mexico, Morocco, Nicaragua, Pakistan, Russia, and South Africa.
A total of 40 students participated in the LaGuardia—Nicosia virtual exchange
Drawing on learning theories covered in their coursework, the LaGuardia and Nicosia students considered the advantages and disadvantages of each country's different pedagogical and cultural approaches. While separated by 6,000 miles, the students compared their fieldwork experiences and discussed general issues related to assessment. Although English was a second language for students attending the University of Nicosia, communication between the students was in English.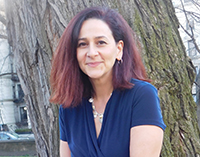 "COIL is about much more than gaining knowledge about a specific country; it is about increasing cultural awareness, questioning our assumptions and rewiring our brains so that we try to understand difference instead of rushing to judgement," said Maria Savva, Ph.D., associate professor and director of International Studies at LaGuardia Community College. "By learning how others do things differently from us, our assumptions are challenged—we learn to question things that we would normally take for granted and realize that there are different ways of doing the same thing."
LaGuardia students, for example, were surprised to learn that children attending elementary schools in Cyprus do not receive report cards, nor do they take any standardized exams. Instead, they are assessed only by their classroom teachers with no formal distribution of results. This contrasts sharply with the practice in New York, where children receive graded progress reports on a quarterly basis and begin taking standardized tests in English and mathematics as early as third grade.
Elena Papanastasiou, Ph.D., professor of education and dean at the University of Nicosia's School of Education, added, "The learning went beyond a superficial comparison of two educational systems. The lively interactions between the students enabled them to better understand the perspectives of their foreign counterparts, while being able to ask follow up questions and ask for opinions and explanations within a very friendly and collegial environment."
Global Self-Awareness through Virtual Exchanges
"True and deep learning is about crossing various types of visible and invisible borders. COIL makes this possible by expanding the classroom to the world. It empowers students to overcome differences as they work together, negotiate meaning, and grow into truly global citizens," said LaGuardia Associate Professor of English Olga Aksakalova, Ph.D., who helped introduce COIL to the college in 2016. "Students not only gain a broader understanding of the course material, but also achieve a deeper sense of global self-awareness and sharpen their digital skills," she adds. This innovative program reflects the College's core values of diversity, innovation, and responsibility.
Additional plans are underway at LaGuardia to increase the number of COIL courses across disciplines: Modern Languages, Social Sciences, Humanities, and STEM.
Applications are now being accepted at LaGuardia Community College for the Fall 2020 semester. To learn more and apply, visit www.LaGuardia.edu/Admissions.
• • • •
LaGuardia Community College (LAGCC), located in Long Island City, Queens, educates thousands of New Yorkers annually through degree, certificate, and continuing education programs . LaGuardia is a national voice on behalf of community colleges, where half of all U.S. college students study. Part of the City University of New York (CUNY), the College reflects the legacy of our namesake, Fiorello H. LaGuardia, the former NYC mayor beloved for his championing the underserved. Since our doors opened in 1971, our programs regularly become national models for pushing boundaries to give people of all backgrounds access to a high quality, affordable college education.
####
Media Contact: Elizabeth Streich ( estreich@lagcc.cuny.edu; 347-229-8674)