LaGuardia Community College Receives More Than $400,000 in Federal Funding to Enhance Workforce Development Equipment

Support Provided by U.S. Senate Majority Leader Charles E. Schumer, U.S. Senator Kirsten Gillibrand, U.S. Representative Nydia Velázquez, and Former U.S. Representative Carolyn B. Maloney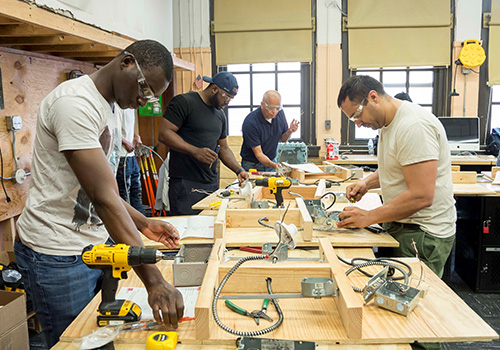 LONG ISLAND CITY, NY (January 24, 2023) — LaGuardia Community College/CUNY continues to champion the need to enhance vocational training for underemployed New Yorkers. This effort recently received a $404,774 financial boost from U.S. Senate Majority Leader Charles E. Schumer, U.S. Senator Kirsten Gillibrand, U.S. Representative Nydia Velázquez, and former U.S. Representative Carolyn B. Maloney.
The funding is part of the U.S. Congressional Fiscal Year 2023 Omnibus Appropriations Package. LaGuardia is one of 144 colleges selected for funding from the U.S. Departments of Education, Labor and Health and Human Services, across 163 projects. The allocations were announced on December 18, 2022.
"On behalf of LaGuardia Community College, I want to express our gratitude to Senator Schumer, Senator Gillibrand, Congresswoman Velázquez, and former Congresswoman Maloney, for the confidence they have shown in our focus on helping New Yorkers—especially those impacted by the pandemic—to receive advanced training to start a new career or advance in their current field," said President Kenneth Adams.
"LaGuardia Community College provides professional training for New Yorkers in electrical, plumbing, HVAC, and other similar fields, and I'm proud to support their efforts," said U.S. Senator Chuck Schumer. "These federal funds will create new career opportunities for more people, increasing access to good-paying jobs and professional development, all while meeting local community and employer demand."
"I'm proud to bring home this investment for LaGuardia Community College that will help people from underserved communities seeking a brighter future," said U.S. Senator Gillibrand. "These funds will arm unemployed and underemployed individuals with the tools needed to learn new skill sets that will open up employment opportunities, creating a pipeline to train untapped talent in overlooked communities."
"Institutions like LaGuardia Community College are vital to providing students with the education and skills they need to succeed in the modern economy. I was proud to fight for this funding, which will help New Yorkers advance their careers. The workforce training enabled by these funds will help unemployed and underemployed individuals earn the knowledge necessary to obtain good paying jobs across a variety of in-demand fields," said Congresswoman Velázquez.
LaGuardia has provided workforce training in electrical, plumbing, HVAC, and other construction fields for years. Through the programs, under-employed and unemployed incumbent workers, who often face limited access to good paying jobs and professional development, have received industry-recognized, skills-based training that has enabled them to embark upon new careers in high-demand fields, or to advance in their current positions.
"In addition to providing pathways to family-sustaining careers with advancement opportunities, these workforce development programs create talent pipelines necessary to maintain the residential, commercial and physical infrastructure needs for the New York City region," said Sunil B. Gupta, vice president of Continuing Education and Workforce Development at LaGuardia. "By getting people to work and helping employers fill critical job shortages, these programs contribute to our local economy's post-pandemic recovery and strengthen the region's physical infrastructure. These jobs will become even more important as our city increasingly relies upon renewable energy sources."
Plumbing, electrical, and HVAC training require specialized, large-scale equipment. The new funding will help LaGuardia's  Division of Adult Continuing Education & Workforce Development to purchase the latest, industry-standard equipment and upgrade existing labs where accelerated professional trainings in  Electrical 1,  Plumbing 1, and Heating, Ventilation and Air Conditioning (HVAC) 1 will be held on campus. Currently, these trainings are held off campus.
"Providing Electrical 1, Plumbing 1 and HVAC 1 on campus will support our expansion of these trainings, and enable students in these programs to be a part of our campus community. They will get to experience the welcoming spirit of the LaGuardia campus, and have access to the college's extensive services, including our on-campus daycare, library, tutoring centers, and counseling, as well as our food pantry and other resources to help students facing financial challenges," said Hannah Weinstock, LaGuardia's senior director of workforce development.
The trainings will be open to unemployed and underemployed individuals who are low-income, formerly incarcerated, veterans, homeless, disconnected youth, TANF or SNAP recipients, those who lack a high school diploma or equivalent and those with limited English proficiency.
• • • •
LaGuardia Community College (LAGCC), located in Long Island City, Queens, educates thousands of New Yorkers annually through degree, certificate, and continuing education programs. LaGuardia is a national voice on behalf of community colleges, where half of all U.S. college students study. Part of the City University of New York (CUNY), the College reflects the legacy of our namesake, Fiorello H. LaGuardia, the former NYC mayor beloved for his championing the underserved. Since our doors opened in 1971, our programs regularly become national models for pushing boundaries to give people of all backgrounds access to a high quality, affordable college education.
####