LaGuardia Community College Receives Almost $2.8M HSI Grant From U.S. Department of Education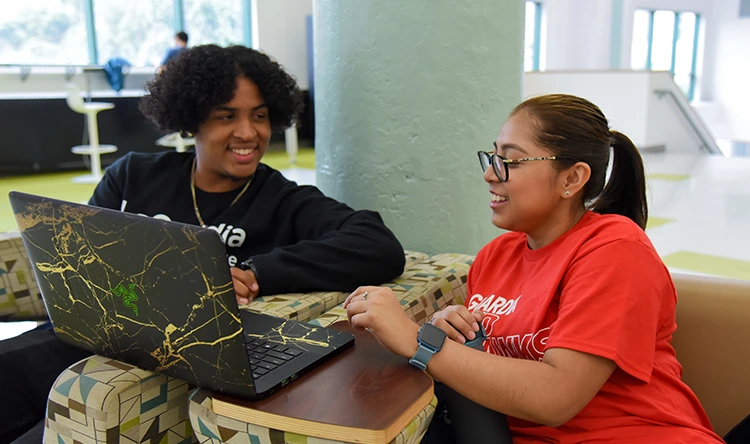 LONG ISLAND CITY, NY (September 25, 2023) — The U.S. Education Department announced on September 21, it will award $37 million through 64 grants to colleges and institutions – including more than two dozen community colleges, mainly in California – that serve a significant number of Hispanic students.
LaGuardia Community College/CUNY was one of only two New York community colleges to receive an HSI grant (the other was Westchester Community College). The list of community college awardees can be found here.
The grants, through the Developing Hispanic-Serving Institutions and Minority Science and Engineering Improvement programs, come during National Hispanic Heritage Month. The investment is a "vote of confidence in HSIs," U.S. Education Secretary Miguel Cardona said in an online press briefing on September 21, noting that the colleges educate 60% of Latino undergraduate students. "These funds will help drive Latino student success in higher education by helping HSIs build up their capacity to support these students," he said.
LaGuardia received a five-year grant award of $2,799,526 starting October 1, 2023. The grant will be used for the development of "Project CAMINO: Fortifying a Guided Pathway for College & Career Success."
"I'm thrilled that LaGuardia Community College will receive a nearly $2.8 million grant from the U.S. Education Department to ensure LAGCC can provide high-quality education and deep support to foster career pathways for Hispanic students, who comprise 45% of the student body," said Congresswoman Nydia M. Velázquez. "This funding will ensure that Hispanic students have ample support for a pathway game plan from the time they begin their journey at LaGuardia until they are ready to start a career or transfer to a four-year institution. This grant will help LaGuardia build on their already successful programs to help Hispanic and low-income students thrive, and I look forward to continuing to work with LAGCC to ensure our community receives the best education and career pathways possible."
Dr. Eric Hofmann, Associate Dean for Academic Affairs at LaGuardia, says CAMINO builds off previous and current HSI grants and will allow faculty, staff, and peer mentors to integrate LaGuardia's proven student success activities within a Guided Pathways framework from admissions and orientation tied to their First Year Seminar through their Capstone courses.
LaGuardia has a successful track record for serving Hispanic and low-income students, Each year LaGuardia serves 15,000 credit-earning students: 45% are Hispanic, and at least 65% are low-income, if measured solely by Pell grant recipients. LaGuardia constantly assesses the needs of our students and our efforts to address those needs, and recent initiatives have shown measurable evidence of success, including a graduation rate that has nearly doubled in the last decade. Stanford's Mobility Report Card ranked LaGuardia in the top five community colleges nationwide in moving low-income students to the middle class.
Despite this success, Hofmann says LaGuardia has more to do to improve retention and graduation rates to help students reach their goals for college success, transfer, and careers.
"Thousands of admitted students do not engage fully in pre-college activities or orientation, dramatically undercutting access to the benefits of a LaGuardia education," he said. "Many change their major after accruing credits that may not transfer, and many fail to transfer to a baccalaureate campus despite their early intentions."
The goal of Project CAMINO is underscored by its name – (in Spanish, camino means path or pathway) and CAMINO will support 40,000 high-need students as they find and map their own paths, Hofmann says. Building on a foundation of rigorous, What Works Clearinghouse-accepted research, CAMINO will implement whole-college reform through three complementary stages:
Pathway to College & Career includes rolling orientations within College-Career Communities, an online module to explore majors, and updated digital tools that connect students earlier to support.
Pathway to Learning & Degree Success enriches the student experience by bringing advisors and mentors together within these communities to support inclusive, data-informed advising and course-based Experiential Learning activities.
Pathway to Career & Transfer increases LaGuardia's capacity for holistic transfer support and ePortfolio activities that showcase students' academic and co-curricular work.
"CAMINO is a cohesive, well-structured, and integrated pathway that builds off LaGuardia's strengths and focuses on the needs of and challenges facing our Hispanic students and their peers," Hofmann said. "If we provide all of our students with not only equitable access but the tools and supports to pursue their long-term goals, LaGuardia will continue to evolve as a Hispanic-serving Institution."
• • • •
LaGuardia Community College (LAGCC), a Hispanic-Serving Institution, located in Long Island City, Queens offers more than 50 degrees and certificates, and more than 65 continuing education programs to educate New Yorkers seeking new skills and careers. As an institution of the City University of New York (CUNY), the College reflects the legacy of our namesake, Fiorello H. LaGuardia, the former NYC mayor beloved for his advocacy of underserved populations. Since 1971, LaGuardia's academic programs and support services have advanced the socioeconomic mobility of students while providing them with access to a high quality, affordable college education.
####