LaGuardia Community College Receives $233,618 Grant From Ichigo Foundation to Launch Initiative Improving Access to Education for Incarcerated/Formerly Incarcerated Individuals
LaGuardia Hires Matthew Wilson as Program Coordinator for Correctional Education Partnership
LONG ISLAND CITY, NY (October 11, 2023) — With a two-year $233,618 grant from the Ichigo Foundation, LaGuardia Community College/CUNY (LAGCC) is establishing the LaGuardia Correctional Education Partnership to improve access to education and training opportunities for incarcerated and formerly incarcerated individuals.
"The LaGuardia Correctional Education Partnership represents a significant step forward in the pursuit of equitable access to education and opportunity for all, irrespective of past involvement with the justice system. By investing in the potential and aspirations of justice-involved individuals, we are not only promoting personal transformation but also strengthening our communities. LaGuardia Community College is committed to fostering an inclusive and supportive environment that empowers individuals to achieve their full potential and forge a brighter future," said Sunil B. Gupta, Vice President of the Division of Continuing Education and Workforce Development at LAGCC.
"The Ichigo Foundation is proud to support LaGuardia Community College to become a safe, welcoming, and supportive place for students who are system impacted," said Janel Callon, Co-founder and CEO of the Ichigo Foundation.
The partnership was developed with input from formerly incarcerated students and their families. The New York State Department of Corrections and Community Supervision, the New York City Department of Correction, and nonprofit, community-based partners and reentry organizations, are collaborating on partnership programming and implementation.
For students on work release, under community supervision, or who have completed their sentences, the partnership will oversee education and training on the LaGuardia campus through professional workforce programs, training for entry-level employment in the building trades and Information Technology, and associate-degree programs with more than 60 majors are offered by LaGuardia.
The partnership will also manage credit and non-credit classes taught by LaGuardia faculty in correctional facilities, including the Queensboro Correctional Facility, which is closely located to the college and where Social Science Professor John Chaney has coordinated a volunteer teaching initiative providing classes and workshops targeting prerelease individuals.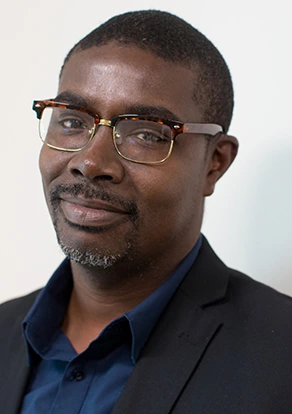 LaGuardia Hires Matthew Wilson ('19) as Program Coordinator
As part of the partnership, LaGuardia has hired Matthew Wilson ('19) to serve as program coordinator to oversee the Correctional Education Partnership and lead the implementation of activities to increase awareness among LaGuardia students, faculty, and staff of the needs of formerly incarcerated students, including professional development to enable faculty and staff to better understand the challenges of reentry.
Mr. Wilson, who begins his new role on October 11, will also help create new educational pathways in associate degree as well as professional certification programs, for justice-involved students, and help strengthen recruitment activities to attract more justice-involved students, including more off-campus outreach, orientation and recruitment sessions, and collaborations with CBOs and correctional facilities.
Prior to joining LaGuardia, Mr. Wilson was the Division Manager of the Petey Greene Program, where he coordinated and managed more than 150 volunteer tutors to support incarcerated and formerly incarcerated youth and adults with GED and college courses. He also supported youth and adults returning to the community by connecting them to workforce development and re-engagement with high school, GED programs and college. Mr. Wilson additional experience includes working as a student mentor and assistant mentor coordinator with the CUNY Fatherhood Program at LaGuardia.
Supporting incarcerated and formerly incarcerated individuals is close to Mr. Wilson's passion, as he has first-hand experience of being incarcerated after serving 13 years in prison for robbery.
Originally from Brooklyn with his grandmother in the Williamsburg housing projects. "My mother was 15 and she wasn't ready to be a mother, so my grandmother raised me," Mr. Wilson said. "She did her best to keep me out of trouble. She supported my love of comics and graphic arts. She got me comics and continued to encourage me to be a better person."
But the love and support from his grandmother could not stop him from engaging in street life. "It was tough and there was a lot of poverty," Mr. Wilson said. "When I was 15 years old, my grandmother had been retired for about 4 years. I wanted to do what I could to help with money, so I got mixed up with people who had drugs and I got arrested for selling drugs, and that snowballed into committing other crimes."
When he turned 20, Mr. Wilson found out his girlfriend was pregnant with his son. He succumbed to the pressures of making money and he began to be more heavily involved with street life. Eventually, Mr. Wilson got caught up in violence, getting shot during a robbery gone bad, and was arrested and sentenced to 13 years in prison in the New York State Department of Corrections and Community Supervision leaving behind his then toddler son.
During his time in prison, Mr. Wilson experienced a tragic loss in his family. "The toughest thing about being locked up was being away from family," he said. "Towards the end of my sentence, my mom passed from heart failure and my uncle passed away from complications of diabetes. It was hard not to be able to be there."
These life events helped Mr. Wilson realize he needed to do something to turn his life around.
"The first thing I wanted to do was to get my high school diploma, so I got my GED in 2005," Mr. Wilson said. "When I achieved that, I thought, 'What else can I do to change my narrative?'" Mr. Wilson sought out opportunities to engage with higher education while he was incarcerated and had an opportunity to apply to John Jay's Prison to College Pipeline where he was able to earn 18 credits before he was released in 2016.
Mr. Wilson eventually completed his time in prison and enrolled at LaGuardia Community College, where he was supported by many members of the college community.
"The folks who helped me while I was attended LaGuardia were Tracy Jackson who connected my Raheem Brooks and the CUNY Fatherhood Academy Team, Dr. Joyce Rheuban, who wrote a reference letter for my application for the Jack Kent Cooke scholarship and also recommended me to Karen Dubinsky for an opportunity to intern at NBC," Mr. Wilson said. "Karen encouraged me to apply for the President's Society along with Cynthia Gutierrez and Elyse Newman. Professor Stott encouraged and supported me to apply for the Mellon Humanities Fellowship to create a film about my lived experience. Dr. Feldman-Rowe encouraged me to use my lived experience and expertise to make people aware of the traumas of incarceration. The list can go but these folks gave me an opportunity to grow and for that I am grateful!"
In 2019, Mr. Wilson graduated from LaGuardia with an AA in Liberal Arts, Social Sciences, and Humanities, (Film and Television) with a 3.5 GPA. He served as a President's Society Ambassador, was a member of Phi Theta Kappa, and received the prestigious Jack Kent Cooke TransferScholarship in 2019. Mr. Wilson then continued his education at St. John's University, where he earned a B.S. in Communications and Media Management with a 3.71 GPA. He was a member of the Sigma Alpha Lambda Honors Society and received the Jack Kent Cooke Graduate Scholarship in 2021. He then stayed at St. John's University and earned his Master of Arts in sociology with a 3.6 GPA. Mr. Wilson now attends NYU Silver School of Social in pursuit of an MSW.
Mr. Wilson said he often reflects on his success asking, "Why me? Why is all this good stuff happening?" Through his reflection, he said he found a purpose in life.
"It's my purpose to support individuals who are going through the same type of process I went through," said Mr. Wilson, who now has a 5-year-olddaughter and whose son is now 22. "I want to be a role model for people who are finding it difficult to make it. If they see that I can do it, then maybe they will be motivated to fight and do it also."
Mr. Wilson looks forward to his new role as program coordinator for the LaGuardia Correctional Education Partnership and says he's always willing to share some advice, even to those who may not relate to incarceration or the prison system.
"Become and always stay a life-learner," he said. "The more you learn, the more you add to your tool kit. 'If you're not getting enough "no's" then you're not asking enough questions'" my favorite quote from American writer Zig Ziglar."
• • • •
LaGuardia Community College (LAGCC), a Hispanic-Serving Institution, located in Long Island City, Queens offers more than 50 degrees and certificates, and more than 65 continuing education programs to educate New Yorkers seeking new skills and careers. As an institution of the City University of New York (CUNY), the College reflects the legacy of our namesake, Fiorello H. LaGuardia, the former NYC mayor beloved for his advocacy of underserved populations. Since 1971, LaGuardia's academic programs and support services have advanced the socioeconomic mobility of students while providing them with access to a high quality, affordable college education.
####