LaGuardia Community College Partners with Catholic Migration Services to Help Green Card Holders Become U.S. Citizens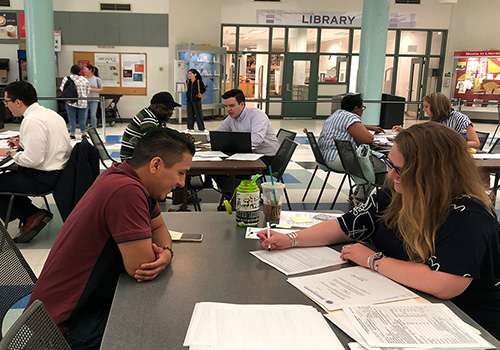 LONG ISLAND CITY, NY (February 14, 2023) — New York City has long been appreciated as a melting pot welcoming citizens from around the world. According to recent data, the foreign-born population of New York City was approximately 3.2 million in 2018, which is 37% of the total city population. For many of these new Americans, who have come here seeking safety and a better life, becoming a U.S. citizen is the ultimate goal.
For immigrants who have obtained permanent residency through a green card, applying for citizenship can be an overwhelming and complicated process. Fortunately, free help is available to them at LaGuardia Community College/CUNY, thanks to funding from the U.S. Department of Homeland Security—U.S. Citizenship and Immigration Services (DHS–USCIS). DHS-USCIS has funded the work of LaGuardia's Center for Immigrant Education and Training to provide citizenship and ESL instruction for green card holders through a partnership with Catholic Migration Services since 2016.
"We have an amazing partnership with Catholic Migration Services. We funnel students who need legal assistance to them, and they refer students to us who need to improve their English language skills in order to pass the citizenship test," said Paula Da Silva Michelin, director of CIET. "Our services are provided at no-cost to students—saving them fees that range from hundreds or thousands of dollars at for-profit immigration assistance centers."
LaGuardia's CIET-CMS citizenship program, which serves about 100 students per year, is open to students who are green card holders. The program provides assistance with submitting the N100 citizenship application, one-on-one interview practice for citizenship interviews, and classes in preparation for the citizenship exam.
"Our students love the program because we do a lot for them. We prepare them for the citizenship test, take them on in-person field trips in New York City, and hold virtual field trips to landmarks like the White House and the U.S. Capitol," said Da Silva Michelin. "We help them understand how America became what it is today and teach them what it means to be a citizen in this country. And most importantly, they do great on their citizenship interview and test—upwards of 95% of students pass on their first try!"
Da Silva Michelin says there are many important benefits attained after a person becomes a U.S. citizen. "For one they can vote. They can get federal jobs like working in a post office," said Da Silva Michelin. "And having citizenship provides more protections under the law—it eliminates the risk of deportation."
LaGuardia currently has a wait list of over 120 adult lawful permanent residents (LPR) requesting citizenship and English services, while its office has a steady stream of additional walk-in applicants.
The CIET-CMS partnership began in 2016 when CIET was awarded a grant of $125,000 for a two-year project. The grant was renewed three times. It was renewed at $125,000 over two years in both FY18 and FY20. The most recent grant for $150,000 over two years was awarded in October 2022 (FY22).
"With the higher amount of funding, we have hired an educational case manager who serves as a referral point to CMS and provides some legal services," said Da Silva Michelin. "For example, sometimes a student will have a family needing help with their legal status, etc., so now we can refer them to our educational case manager to help these folks."
For CIET students, LaGuardia is not just a school, it's where they can access reliable vital services that help their entire family.
"We inform students of their rights. It's more than teaching them the language," Da Silva Michelin said. "We provide wraparound services and link them to LaGuardia services to help them when financial barriers arise. We refer them to LaGuardia CARES' on-campus food pantry and for emergency metro cards, we get them writing their resumes, job interview practice, direct them to a computer lab where they can get help writing an email to their landlord, and more."
Catholic Migration Services ("CMS"), a not-for-profit legal services organization with 501(c)(3) status and an affiliate of Catholic Charities of Brooklyn and Queens (CCBQ), has been providing legal services, including naturalization legal services, to immigrants in New York City since 1971. All of their services are provided without regard to race, color, religion, sex, or national origin.
• • • •
LaGuardia Community College (LAGCC), located in Long Island City, Queens, educates thousands of New Yorkers annually through degree, certificate, and continuing education programs. LaGuardia is a national voice on behalf of community colleges, where half of all U.S. college students study. Part of the City University of New York (CUNY), the College reflects the legacy of our namesake, Fiorello H. LaGuardia, the former NYC mayor beloved for his championing the underserved. Since our doors opened in 1971, our programs regularly become national models for pushing boundaries to give people of all backgrounds access to a high quality, affordable college education.
####