LaGuardia Community College Offers Training for U.S. News & World Report–Ranked Top Health Care Job for Family-Sustaining Salaries and Work-Life Balance
LaGuardia is the only CUNY institution with an Occupational Therapy Assistant program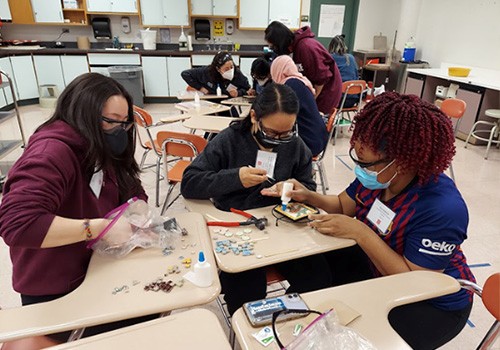 LONG ISLAND CITY, NY (April 26, 2023) — Occupational Therapy Assistant tops U.S. News & World Report rankings of health care jobs that offer financially-rewarding salaries, career advancement, and work-life balance. LaGuardia Community College (LAGCC) is the only institution in the 25-college City University of New York system to offer a degree in Occupational Therapy Assistant, and one of the few in the New York metropolitan region.

An Occupational Therapy Assistant (OTA) works under the supervision of a registered Occupational Therapist (OT) to help individuals with physical, psychiatric, developmental, and other disabilities to participate in life to the greatest extent possible. OTAs choose and adapt activities to help their patients to improve their daily functioning.

"Occupation is the tasks that make up your daily life—not just work—it's what occupies your time. These tasks are what allow you to take care of yourself, to take care of others, to work and be in school, to rest and sleep, and to engage in daily life," said Regina Lehman, OT, professor and OTA Program Director at LAGCC.

Occupational therapy is an ideal field for an individual who wants to work in health care and help people.

"We support an individual's ability to get their life back after an illness or accident. OTAs are trained to help patients with the tasks that are most important to them. There's a good amount of altruism and empathy involved," said Professor Lehman. "It's one of the most unique healthcare professions because our scope of practice ranges from birth to death. We work with children diagnosed with autism, adults recovering from strokes, and individuals learning to live with a chronic condition."


For Rashaan Austin, COTA/L, 33, a 2021 graduate of LaGuardia's OTA program, the variety of the work is what he enjoys about his profession.

"Every patient is a unique experience. Even people with the same diagnosis. Each day always feels new and interesting," said Rashaan, who currently works at a skilled nursing facility in East New York, Brooklyn.

Another advantage of OTA positions is the flexibility of work opportunities. LAGCC's OTA program matches that flexibility and is designed to meet students' needs, with full and part time class schedules, and coursework to boost students' English language skills.

"You can find OTAs working in many different settings, such as nursing homes, rehabilitation facilities, and schools," said Professor Lehman. "Working in a school may allow a parent to have the same schedule as their children; while other settings may offer evening and weekend shifts."

"Our students are often older and have families, so we offer day, evening, and part-time options—while most other OTA programs are full-time," added Professor Lehman. "Additionally, many of our students were not born in the United States, so we built English as a Second Language (ESL) into the program."

OTA training involves coursework and clinical internships. To be licensed, students sit for the OTA national certification examination, administered by the National Board for Certification in Occupational Therapy (NBCOT). LAGCC bests the national average in first-time pass rates on the NBCOT exam. In 2022, 91% of LAGCC OTA students passed the exam on their first try, while the national average was 85%. "This means that our grads are well-prepared," said Professor Lehman. "As a result, many start out making above the media salary reported in U.S. News of $61,730 per year."

Job growth in OTA is expected nationwide. More than 25% employment growth is expected between 2021 and 2031, with an estimated 11,000 OTA jobs becoming available, according to the Bureau of Labor Statistics.

Click here for U.S. News' methodology.
• • • •
LaGuardia Community College (LAGCC), a Hispanic-Serving Institution, located in Long Island City, Queens offers more than 50 degrees and certificates, and more than 65 continuing education programs to educate New Yorkers seeking new skills and careers. As an institution of the City University of New York (CUNY), the College reflects the legacy of our namesake, Fiorello H. LaGuardia, the former NYC mayor beloved for his advocacy of underserved populations. Since 1971, LaGuardia's academic programs and support services have advanced the socioeconomic mobility of students while providing them with access to a high quality, affordable college education.
####