LaGuardia Community College Co-Hosts CUNY LGBTQI+ Student Conference, March 31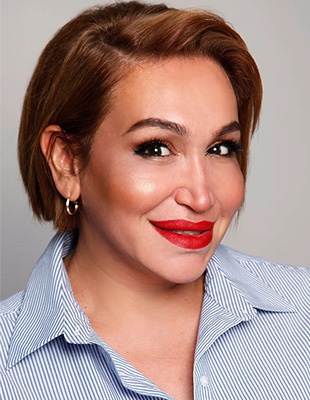 LONG ISLAND CITY, NY (March 7, 2023) — LaGuardia Community College/CUNY is co-hosting the second annual CUNY LGBTQI+ Student Conference on March 31 at the LaGuardia campus, located at 31-10 Thomson Avenue, in Long Island City, Queens. The conference is scheduled from 9 a.m. to 6 p.m., beginning at the Main Stage Theatre, located in Room E-243.

The CUNY LGBTQI+ Student Conference brings together LGBTQI+ students from across City University of New York (CUNY) interested in learning more about leadership and creating change on our campuses and broader communities. The conference includes workshops, a keynote address, and the gathering of Queer & Trans students, faculty, staff, and allies. Students can REGISTER HERE to attend.

The theme of this year's conference is "Community, Advocacy, Power, and Healing," and this year's keynote speaker is founder of Trans Equity Consulting, Cecilia Gentili.

Cecilia started Transgender Equity Consulting in the beginning of 2019 after serving as the Director of Policy at GMHC, the world's first and leading provider of HIV/AIDS prevention, care and advocacy from 2016 to 2019. Originally from Argentina, Cecilia came to the United States for a safer life as a transgender woman and lived, in the country undocumented for 10 years. During this time Cecilia gained her living through sex work, which came with drug use, for which she was continually targeted for policing. After multiple arrests and an immigration detention, she accessed recovery services and with more control over her life fought and won asylum. Her experience surviving this time in her life impassions her desire to ensure that all people living on the margins are provided with access to the dignity and respect deserved in all spaces. As a consultant, Cecilia has collaborated with organizations including the AIDS Institute, the Department of Health and Mental Hygiene, Funders for LGBTQ Issues, Borealis Foundation and Cicatelli Associates Inc. Her reputation amongst these organizations is reflective of the deep personal commitment she brings to the work, and her unique insight which enables a deeper connection with queer and trans communities.

Throughout the conference, there will be workshops hosted by faculty, staff, students and guests. The complete schedule can be found HERE. This event is made possible through the generous support of LaGuardia Community College, The CUNY LGBTQI+ Council, the CUNY LGBTQIA+ Consortium, and and the New York City Council Lesbian, Gay, Bi-sexual, Transgender, Queer, Intersex, Asexual Caucus.
• • • •
LaGuardia Community College (LAGCC), located in Long Island City, Queens, educates thousands of New Yorkers annually through degree, certificate, and continuing education programs. LaGuardia is a national voice on behalf of community colleges, where half of all U.S. college students study. Part of the City University of New York (CUNY), the College reflects the legacy of our namesake, Fiorello H. LaGuardia, the former NYC mayor beloved for his championing the underserved. Since our doors opened in 1971, our programs regularly become national models for pushing boundaries to give people of all backgrounds access to a high quality, affordable college education.
####