LaGuardia Community College Builds Awareness on Having a Healthy Campus Climate and Hosts a College-wide Art and Video Competition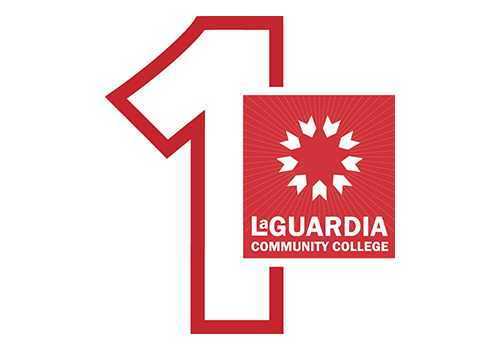 LONG ISLAND CITY, NY (June 7, 2023) — LaGuardia Community College/CUNY is building awareness about the importance of having a healthy campus climate to benefit the well-being of its students, faculty and staff.

At the start of the Spring 2023 semester, LaGuardia received a Campus Climate Support grant from the City University of New York to champion educational efforts identifying and addressing the campus community's current attitudes, beliefs, behaviors and standards regarding respect, diversity and inclusion. Numerous studies have proven how campus climate impacts students, staff and faculty on their academic, professional and personal development.

Kenneth Adams, President of LaGuardia Community College, says the need for colleges to examine campus climate is even more critical now, because of the national increase in acts of anti-semitism, homophobia, and racism.

"A healthy climate is grounded in respect for others, nurtured by dialogue between those of differing perspectives, and evidenced by a pattern of civil interactions among community members," President Adams said. "Campus climate examines the experience of individuals and groups on college campuses—and the quality and extent of the interaction between those groups and individuals. It's about respecting each other as individuals and embracing our diversity and uniqueness."

As part of its "We are 1 LaGuardia" Initiative, the college embraces its diversity and inclusiveness with zero tolerance for discrimination or acts of hate in our community – regardless of race, religion, gender, gender identity, sexual orientation, nationality, or perspective. Its mission is to come together to learn, work, and grow as individuals and New Yorkers. Everyone deserves to be treated with respect and the opportunity to thrive.

During the Spring 2023 semester, LaGuardia hosted an artwork and video competition inviting students, faculty, and staff to answer the question: "Who Are You?" as part of a Campus Climate Project, funded by CUNY. This competition gave participants the opportunity to express themselves through art and video in the spirit of advancing diversity, equity, and inclusion on the LaGuardia campus.

All entries and descriptions can be viewed on the 1LaGuardia website. Each submission received a prize and the Top Winning submission, created by LaGuardia student Tahlaiya Thompson, was given a special exhibition space, located on the first floor of the college's M-Building.

In her artwork description, Tahlaiya states, "My artwork is about my identity as a neurodivergent black woman in a neurotypical society. It's also about the stigma and the judgements that I sadly receive from NT people on a daily basis, when I choose to not mask my ND identity, stay true to myself and advocate for myself when I need accommodations." Tahlaiya's artwork will be on display through August 2023.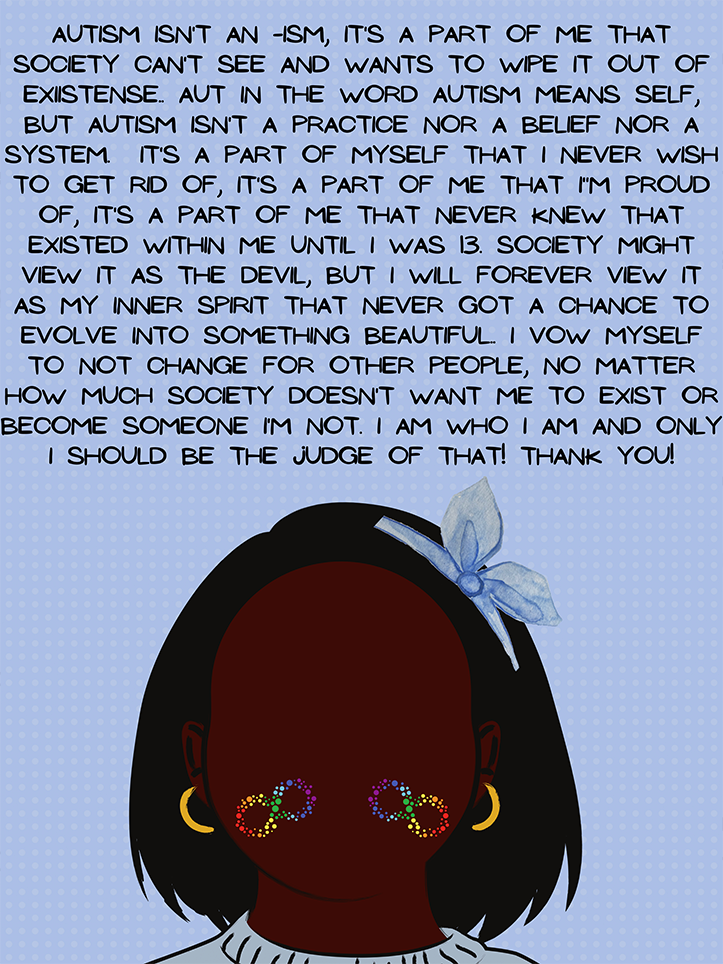 The 1LaGuardia Initiative, which is part of the LaGuardia's Diversity, Equity and Inclusivity (DEI) efforts, has been instrumental in advancing, building, and maintaining an environment that is equitable and inclusive. LaGuardia's campus affinity groups, student clubs, and Casa de las Americas, which was launched in 2022, all provide curricular and co-curricular programming and initiatives that emphasize the diversity of our campus community, and how all who work, learn or visit are valued, welcomed and respected.

LaGuardia is also embarking on a campus-wide initiative to develop a social equity plan that will serve as a guide for how it will address the needs and concerns of its diverse campus community populations, in policy and programming. The campaign will provide an expressive method to promote dialogue about various issues related to all forms of discrimination and bias.

For more information about the 1LaGuardia Initiative, contact Wendy Nicholson, Executive Director of DEI at wnicholson@lagcc.cuny.edu.
• • • •
LaGuardia Community College (LAGCC), a Hispanic-Serving Institution, located in Long Island City, Queens offers more than 50 degrees and certificates, and more than 65 continuing education programs to educate New Yorkers seeking new skills and careers. As an institution of the City University of New York (CUNY), the College reflects the legacy of our namesake, Fiorello H. LaGuardia, the former NYC mayor beloved for his advocacy of underserved populations. Since 1971, LaGuardia's academic programs and support services have advanced the socioeconomic mobility of students while providing them with access to a high quality, affordable college education.
####