LaGuardia and Wagner Archives Explores the Role of Women in NYC Politics
2023 Calendar (in English and Spanish) Available At No Cost via Download or Mail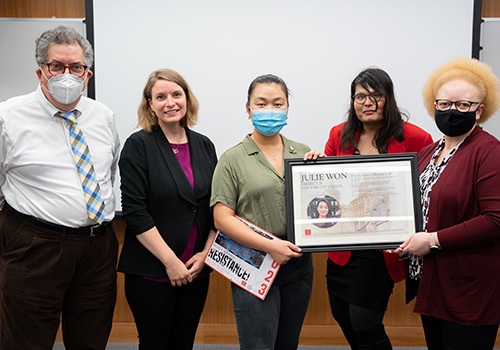 From l to r: Stephen Weinstein, Molly Rosner, Council Member Julie Won, Riley Owens, and Soraya Ciego-Lemur
LONG ISLAND CITY, NY (December 22, 2022) — The LaGuardia and Wagner Archives ("the Archives") at LaGuardia Community College/CUNY has produced a 2023 calendar focused on women in New York politics and social movements over the past 125 years. It honors the first female majority in the Council of the City of New York and draws from the Archives' Council of the City of New York Collection.
A launch party for the 2023 calendar was held on December 15 at the CUNY School of Law. Council Member Julie Won, the first Asian-American to be elected in District 26 and the council representative for LaGuardia, was the keynote speaker.
The calendar is available to the public—at no cost—in English or Spanish, via download or mail. To request a copy by mail, send your address to warchives@lagcc.cuny.edu.
"The LaGuardia and Wagner Archives' 2023 calendar honors the struggles that women have endured in order to have a seat at the table in New York City politics, and celebrates their hard-earned accomplishments," said Kenneth Adams, president of LaGuardia Community College.
"The theme of this calendar was selected to capture this historic period for women in New York City politics. Thirty-one of 51 New York City Council representatives are women, including Adrienne E. Adams, who serves as the council's speaker. Additionally, New York City Mayor Eric Adams appointed five women as deputy mayors shortly after his inauguration in January 2022," said Stephen Weinstein, calendar project director, LaGuardia and Wagner Archives.
A unique resource among CUNY colleges, the LaGuardia and Wagner Archives collects and preserves materials illuminating the social and political history of New York City. It has an annual tradition of delivering dynamic, inspiring, and educational content through historical calendars that pull content from its collections and other sources.
The 2023 calendar builds on the Archives' ongoing research documenting and exploring the role of women in local government, set within the global fight for gender equity. Last month, the Archives launched "Making it Here: Women in NYC Politics," a website featuring interviews with female elected representatives and special projects produced by LaGuardia students. Additional interviews and other work will be added to the website throughout 2023.
Funding from the Council of the City of New York made the publication of the Archives' 2023 calendar possible. Special thanks to City Council Speaker Adrienne E. Adams, Council Member Julie Won, Council Member Shekar Krishnan, Council Member and Finance Committee Chair Justice Brannan, and Council Member and Higher Education Committee Chair Eric Dinowitz.
• • • •
The LaGuardia and Wagner Archives at LaGuardia Community College chronicles the past 150 years of New York City history, with a growing focus on Queens and the outer boroughs. Housing more than two million documents, and with 100,000 photographs digitized and accessible on its website, the Archives serves students, scholars, journalists, policy makers, and exhibition planners. Collections include the records of the New York City Council and the New York City Housing Authority; explorations into Queens local history and LGBTQ activism in Queens; as well as selected documents from the administrations of Mayors Fiorello H. LaGuardia, William O'Dwyer, Robert F. Wagner, John V. Lindsay, Abraham D. Beame, Edward I. Koch, David Dinkins, and Rudolph Giuliani. It was founded in 1982.
LaGuardia Community College (LAGCC), located in Long Island City, Queens, educates thousands of New Yorkers annually through degree, certificate, and continuing education programs. LaGuardia is a national voice on behalf of community colleges, where half of all U.S. college students study. Part of the City University of New York (CUNY), the College reflects the legacy of our namesake, Fiorello H. LaGuardia, the former NYC mayor beloved for his championing the underserved. Since our doors opened in 1971, our programs regularly become national models for pushing boundaries to give people of all backgrounds access to a high quality, affordable college education.
####