Jack Kent Cooke Foundation Announces Semifinalists for Scholarship; Seven LaGuardia Students Among the Semifinalists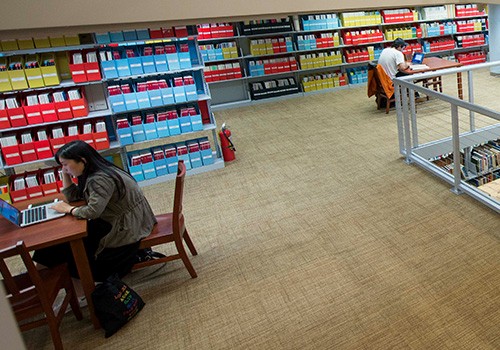 LONG ISLAND CITY, NY (March 10, 2023) — On March 10, seven students from LaGuardia Community College/CUNY were selected as semifinalists of the Jack Kent Cooke Undergraduate Transfer Scholarship. The Foundation awards community college students who have demonstrated exceptional academic ability, leadership, service, and a determination to complete their bachelor's degrees at top four-year institutions.

This year's 459 semifinalists were chosen from a pool of more than 1,700 applicants, and attend 215 community colleges in 38 states. A list of this year's Cooke Transfer Scholar semifinalists, their respective community colleges is available HERE. The Undergraduate Transfer Scholarship recipients will be announced in April.

The students selected from LaGuardia are: Sheik Ali, Paralegal Studies major; Christin Bertin, Electrical Engineering major; Crystal Chen, Business Administration major; Bruna Lorena De Souza Vaz, Biology major; Ryan Jhin, Accounting major; Vildana Khamidullina, Journalism major; and Min Young Kim, Applied Mathematics major.

"At LaGuardia student success is our highest priority," said Kenneth Adams, President of LaGuardia Community College. "We are proud of our students for this achievement, and we thank the Jack Kent Cooke Foundation for their continued support of college students on their academic success."

The Cooke Transfer Scholarship is designed to create a clear pathway to a four-year degree by offering up to $55,000 per year along with academic advising and access to a network of peers.

"By lifting the financial burden of pursuing a four-year degree off their shoulders, our goal is to help students take full advantage of a four-year college experience without taking on student debt," said Seppy Basili, Executive Director of the Cooke Foundation. "This year's selected semifinalists reflect the deep bench of talent across our community colleges today, and we're looking forward to getting to know them better in our final application review process."

The Undergraduate Transfer Scholarship offers unparalleled support to community college students. In addition to the generous financial support, selected Cooke Transfer Scholars will receive educational advising from the Foundation's Deans of Scholar Support to guide them through the process of transitioning to a four-year school and preparing for their future endeavors. They will also have access to opportunities for internships, study abroad, graduate school funding, and the incomparable connection to a robust network of more than 3,000 fellow Cooke Scholars and Alumni.
• • • •
LaGuardia Community College (LAGCC), located in Long Island City, Queens, educates thousands of New Yorkers annually through degree, certificate, and continuing education programs. LaGuardia is a national voice on behalf of community colleges, where half of all U.S. college students study. Part of the City University of New York (CUNY), the College reflects the legacy of our namesake, Fiorello H. LaGuardia, the former NYC mayor beloved for his championing the underserved. Since our doors opened in 1971, our programs regularly become national models for pushing boundaries to give people of all backgrounds access to a high quality, affordable college education.
####