Empire State Development Announces More Than $200,000 Awarded to LaGuardia Community College for Film and Television Production Workforce Development Program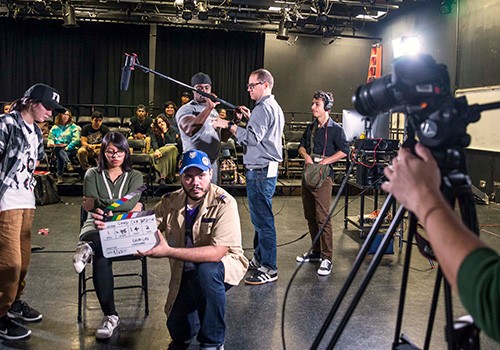 LONG ISLAND CITY, NY (March 17, 2023) — Empire State Development (ESD) announced on March 17, that the LaGuardia Community College Film Training Program has been awarded $205,000 through the New York Entertainment Workforce Diversity Grant Program which was developed to incentivize job creation and training programs that support efforts to recruit, hire, promote, retain, develop, and train a diverse and inclusive workforce for New York's motion picture and television industry. The funding comes from a 0.5% portion of the Film and Television tax credit.

"The film and television industry is an important sector of New York's economy that provides good jobs to tens of thousands of residents throughout the state," Empire State Development President, CEO and Commissioner Hope Knight said. "We are committed to ensuring that all New Yorkers, especially those who traditionally have been left behind, are able to get sought after skills and training and excel in New York."

"LaGuardia Community College is located in Western Queens, a hub for film and entertainment production since the silent movie era," said LaGuardia Community College President Kenneth Adams. "Our new relationship with Empire State Development will enable us create workforce development opportunities for students who are interested in the film and television industry and allow us to build a strong partnership with IATSE Local 52."

Date for the launch of the program is still being determined. Once finalized, the LaGuardia College Film Training will serve 40 unemployed and underemployed individuals offering a three-pronged training program that will match participants' skill set to existing job opportunities, align training to the needs of local regional employers, and embed counseling and advisement throughout the program. The program will run two cohorts of 20 students each focusing on training for entry level employment film production assistance in electrical, grip, or prop design. The training will take place across approximately 112 hours per cohort and will be in partnership with IATSE Local 52.

The LaGuardia Community College Film Training program is based off the successful Bronx Community College (BCC) Film Production Training Program and was the inspiration for the New York Entertainment Diversity Grant program. The BCC program demonstrated that universities, unions, and studios could successfully partner to increase the diversity of the entertainment workforce. The BCC program focused on training students form under-represented backgrounds in the film and television industry in IATSE Local 52 trade crafts and provide a path to employment in the industry. The BCC program is resuming in the Spring with the original cohort of students returning to train with the Local 52 instructors in the grip and electrical fields.

The New York Entertainment Workforce Diversity Grant Program is designed to incentivize job creation and training programs that support efforts to develop and train a diverse and inclusive workforce in the motion picture and television industry. The program makes 1:1 matching grants from $25,000 to $500,000 available to eligible programs in film and television development and editing. Proposed programs must address the grant program's goals of providing opportunities for diverse workers and/or those located in economically distressed areas of New York State. Applications are being accepted at https://esd.ny.gov/new-york-entertainment-workforce-diversity-grant-program.

"Local 52 looks forward to assisting BCC and LaGuardia in providing quality candidates to the New York production crew database," said John Ford, IATSE Local 52. "Special thanks to the Governor and Legislature in addressing these important programs."
• • • •
About Empire State Development
Empire State Development (ESD) is New York's chief economic development agency. The mission of ESD is to promote a vigorous and growing economy, encourage the creation of new job and economic opportunities, increase revenues to the State and its municipalities, and achieve stable and diversified local economies. Through the use of loans, grants, tax credits and other forms of financial assistance, ESD strives to enhance private business investment and growth to spur job creation and support prosperous communities across New York State. ESD is also the primary administrative agency overseeing the New York State Regional Economic Development Councils and the marketing of "I LOVE NY," the State's iconic tourism brand. For more information on Regional Councils and Empire State Development, please visit www.regionalcouncils.ny.gov and www.esd.ny.gov.
LaGuardia Community College (LAGCC), a Hispanic-Serving Institution, located in Long Island City, Queens offers more than 50 degrees and certificates, and more than 65 continuing education programs to educate New Yorkers seeking new skills and careers. As an institution of the City University of New York (CUNY), the College reflects the legacy of our namesake, Fiorello H. LaGuardia, the former NYC mayor beloved for his advocacy of underserved populations. Since 1971, LaGuardia's academic programs and support services have advanced the socioeconomic mobility of students while providing them with access to a high quality, affordable college education.
####