Dr. Nicolle Fernandes to Collaborate on USDA-Funded Projects to Enhance Nutrition and Culinary Arts Curriculum and Training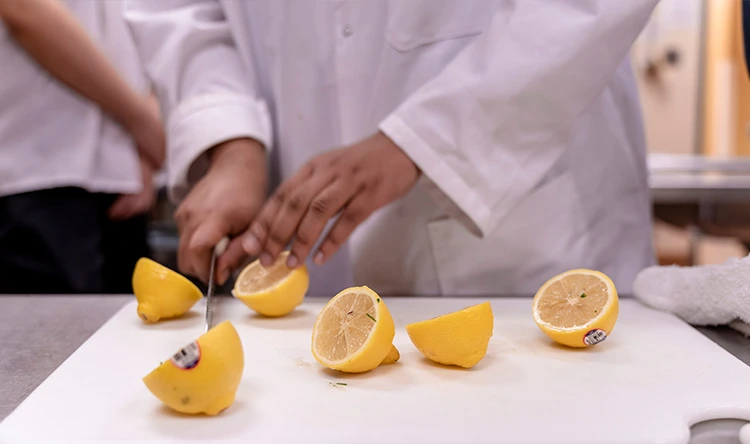 LONG ISLAND CITY, NY (September 27, 2023) — Addressing diet-related health disparities and environmental impacts, culinary and operational changes in food service continue to be a challenge in today's world.
Recently, Dr. Nicolle Fernandes, professor and director of the Nutrition and Culinary Management Program at LaGuardia Community College/CUNY, has been collaborating on two projects to address curricula and workforce skills development in the nutrition and culinary arts industries.
Climate-friendly, Healthy, Efficient Food (CHEF) Service Credential Program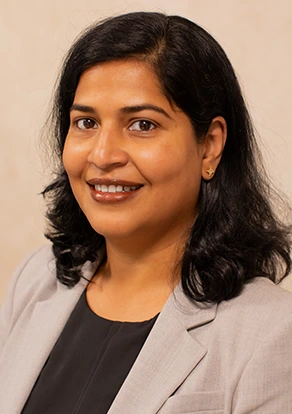 Dr. Fernandes was awarded a one-year grant of $50,845 from the United States Department of Agriculture to develop the Climate-friendly, Healthy, Efficient Food (CHEF) Service credential. The grant, which is part of the FY2022 Agricultural Workforce Training at Community Colleges (AWT) program were recently announced on NIFA's website. The primary awardee was the CUNY School of Public Health (Dr. Nevin Cohen, associate professor), who received $250,000.
The CHEF project, funded by USDA's Agriculture and Food Research Initiative, will include a collaborative effort between Dr. Fernandes, Dr. Cohen, and Kingsborough Associate Professor Mark D'Alessandro, along with CUNY students, industry experts and non-profit organizations, who will innovate the community college curricula to teach culinary and hospitality students about the relationship between food and climate change, the potential for food service to improve nutrition and health, and efficient food operations to reduce food waste. The goal is to meet the need for food service workers trained in sustainable, healthy food service, enhancing the relevance of community college culinary instruction and improving the job prospects of culinary, hospitality and related community college majors in the growing field of sustainable and healthy food service. The project will create a model for culinary and hospitality management education that will produce a workforce equipped to address critical environmental and public health needs.
Inclusive Model for Developing Future Nutrition, Food, and Culinary Leaders (IMODEL) Program
Dr. Fernandes is also collaborating with University of Rhode Island and New York University to help create an experiential program focused on developing future nutrition and culinary leaders.
The U.S. Department of Agriculture and the National Institute of Food and Agriculture (NIFA) recently awarded a $749,949 (5-year) grant to help create the "Inclusive Model for Developing Future Nutrition, Food, and Culinary Leaders" (IMODEL), an innovative leadership development and mentored experiential learning program for underrepresented undergraduate students to address the AFRI Farm Bill Priority Area of Food Safety, Nutrition, and Health of the American Public. Nutrition-related inequalities in health status impact many chronic diseases and are serious public health concern. The primary awardee is Dr. Ingrid Lofgren from the University of Rhode Island, and Dr. Fernandes was awarded $186,911.
Dr. Fernandes said diet-related chronic diseases are leading causes of death in the United States, with underrepresented populations disproportionately affected. The food insecurity and food deserts faced by many vulnerable populations were also made worse by the COVID-19 pandemic, leading to unfavorable health consequences.
"Well-trained nutrition, food, and culinary professionals from multiple backgrounds are needed to deal with these nutrition-related health inequalities and propose and develop testable solutions, interpret research into evidenced-based practice, and communicate findings to varying populations," Dr. Fernandes said.
Dr. Fernandes says both of these grant-funded projects offer collaborative opportunities to work with different institutions.
"I look forward to seeing these project through," said Dr. Fernandes. "In the end, both of these projects will bring a lot of critical information to help the food service industry. These collaborative projects will be instrumental for enhancing the student learning experience, and our students will have the opportunity to develop their skills in culinary and nutrition studies."
• • • •
LaGuardia Community College (LAGCC), a Hispanic-Serving Institution, located in Long Island City, Queens offers more than 50 degrees and certificates, and more than 65 continuing education programs to educate New Yorkers seeking new skills and careers. As an institution of the City University of New York (CUNY), the College reflects the legacy of our namesake, Fiorello H. LaGuardia, the former NYC mayor beloved for his advocacy of underserved populations. Since 1971, LaGuardia's academic programs and support services have advanced the socioeconomic mobility of students while providing them with access to a high quality, affordable college education.
####