Dr. Jayashree Kamblé Brings Her Love of Romance Literature and Film to LaGuardia Students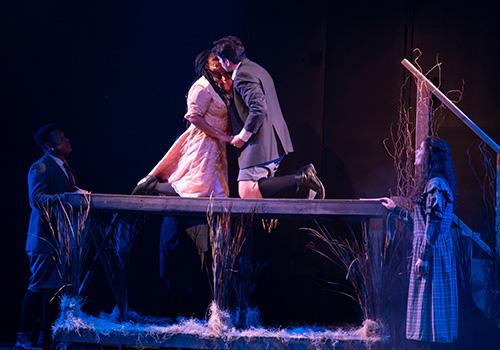 LONG ISLAND CITY, NY (February 14, 2023) — It's February, the month to celebrate Valentine's Day as romance fills the air.
LaGuardia Community College/CUNY has its own professor of romance—Dr. Jayashree Kamblé, a professor of English who focuses on mass-market romance novels, like Harlequin romances, Julia Quinn's Bridgerton series, or the "Fifty Shades of Grey" trilogy.
"Romance novels are even more popular today than they were at the genre's debut in the U.K. before World War I. The reason is obvious—who doesn't love a love story with a happy ending?" said Dr. Kamblé.
For Dr. Kamblé, the genre's power stems from its core belief that developing equitable human connections between people leads to happiness and a better society. As a literature student and teacher, she also finds that the iterative quality of the genre's plot structure frees the reader to meditate on themes like power and gender as well as on individual writers' stylistic flourishes, akin to jazz. Readers also enjoy a world-wide community across numerous in-person and on-line forums, all connected through a love of the form.
"A good romance novel uses accessible language and long-standing conventions but still surprises and delights you, often while striving for more inclusive representations of different identities," said Dr. Kamblé.
Dr. Kamblé was first drawn towards the genre as a young girl growing up in western India. She got into romance novels via local subscription libraries and informal networks of book circulation between her peers and relatives. Reading romance novels was a favorite hobby when she was a student at Savitribai Phule Pune University in Pune, India, where she earned her bachelor's and master's in English. She decided that she wanted to take up doctoral research so she could examine socio-political ideologies via literature. She became a professor of English because it seemed like the best way to continue that journey, but she initially didn't consider that romance novels could become part of her research. Though she had worked in the romance genre, so to speak, when she wrote greeting cards for Hallmark while at university in India, she says she quit after "I ran out of ways to say 'I love you' to strangers."
She enrolled at the University of Minnesota as a Ph.D. student in English Literature, with a supporting program in popular culture. When it came time to write her doctoral dissertation, a faculty mentor suggested that she "write about what you read even when you don't have to read it." She took his advice to heart and made mass-market romance novels her subject. Her dissertation, titled "Uncovering and Recovering the Popular Romance Novel," was about romance heroes, which she turned into her first book, "Making Meaning in Popular Romance Fiction: an Epistemology" (2014).
Dr. Kamblé joined LaGuardia's English Department in 2012, bringing her passion for romance into the classroom through courses like ENG 245: Images of Women in Literature.
And she continues to focus her academic research on romance literature as well as on romance narratives in mainstream English and Indian cinema and other media. She is the author of the book "Creating Identity: The Popular Romance Heroine's Journey to Selfhood and Self-Presentation" (forthcoming in June 2023 from Indiana University Press) on romance novel heroines and what their journeys reveal about contemporary conversations on gender, sexuality, citizenship, race, and economic status.
Dr. Kamblé's academic research has been supported by several research grants, including an American College of Learned Societies (ACLS)/Andrew W. Mellon Foundation fellowship and a CUNY Black, Race and Ethnic Studies Initiative (BRESI) grant for her latest project on American publishing history and BIPOC romance novels between 1977-1990.
She's the current president of the International Association for the Study of Popular Romance. In this capacity, she works with other officers to expand the field's visibility and support researchers who study romance. She is currently helping organize IASPR's next biannual conference, which will be in June 2023 at the University of Birmingham in the U.K.
Dr. Kamblé says Valentine's Day sets a limit on when people celebrate romance and says romance is year-round and can be embraced through novels and film.
"If movies are your thing, and especially if you're a fan of period dramas in the vein of Austen's novels, I recommend the recently released 'Mr. Malcolm's List,' said Dr. Kamblé. "My favorite romance author is Sherry Thomas, a Chinese-American writer whose work spans Victorian England, Qing China, colonial South Asia and most recently, a gender-flipped Sherlock Holmes. Thomas infuses the basic romance plot with evocative prose and finely-etched characters whose internal landscapes are geologically vast." Dr. Kamblé wrote an article about Thomas's novel "My Beautiful Enemy" for the Journal of Popular Romance Studies."
Dr. Kamblé says finding a good romance author is similar to the act of falling in love.
"You have to read many to learn which ones speak to your literary and socio-political values (and kinks!)," Dr. Kamblé said. "Thanks to public libraries as well as the massive expansion of e-publishing, this is easy to do. Whether it is about childhood sweethearts or meet-cutes between opposites who attract, about fast-paced urban life or a small town where everyone knows your name, encountering a good romance novel is like finding something new to love in a long-term companion."
• • • •
LaGuardia Community College (LAGCC), located in Long Island City, Queens, educates thousands of New Yorkers annually through degree, certificate, and continuing education programs. LaGuardia is a national voice on behalf of community colleges, where half of all U.S. college students study. Part of the City University of New York (CUNY), the College reflects the legacy of our namesake, Fiorello H. LaGuardia, the former NYC mayor beloved for his championing the underserved. Since our doors opened in 1971, our programs regularly become national models for pushing boundaries to give people of all backgrounds access to a high quality, affordable college education.
####