Congresswoman Nydia Velázquez Presents $800,000 to NY Sun Works to Develop Urban Farming Programs Through Hydroponic Technology at 20 Schools, Including LaGuardia Community College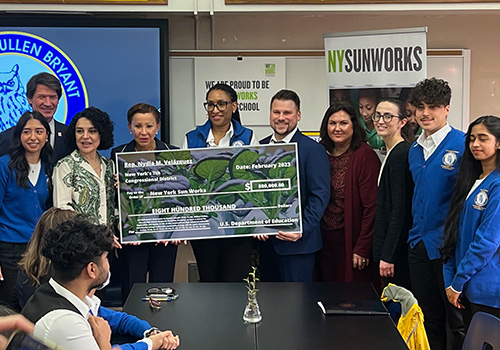 LONG ISLAND CITY, NY (February 21, 2023) — On February 17, 2023, NY Sun Works Director Manuela Zamora in partnership with Congresswoman Nydia Velázquez (NY-07) announced the expansion of climate and sustainability education through new state-of-the-art hydroponic farms at 20 schools in Brooklyn and Queens, including LaGuardia Community College/CUNY. The $800,000 investment in public education was announced during the course of two days at P.S. 67 The Charles Dorsey School in Fort Greene, Brooklyn, P.S. 299 Thomas Warren Field School of Leadership and Service in Bushwick, Brooklyn and William Cullen Bryant High School in Woodside, Queens.
"We are honored to be part of this historic investment in Brooklyn and Queens to bring this expansion to fruition that will not only enrich the science curriculum in schools but empower and inspire students to pursue careers in STEM," said Manuela Zamora, NY Sun Works Executive Director. "Congresswoman Velázquez is committed to bringing hands-on 21st century urban farming education, climate, and food justice to the forefront to thousands of public-school students. Our cutting-edge technology teaches responsible stewardship, the ability to grow their own food from seed to harvest and share fresh, nutritious produce with their community."
"I'm proud to have fought to bring these funds to my district to enhance access to STEM education and provide students with the opportunity to learn more about local food production, healthy eating, climate, and sustainability," said Congresswoman Nydia Velázquez (NY-07). "Greenhouse hydroponic farming is not only a financially wise investment, with excellent educational returns, but will also create a sound foundation in young students of self-sufficiency, respect for the environment, and a desire for healthy living and nutrition."
"We are excited to have the support of Congresswoman Velázquez and NY Sun Works to provide our school community with an urban farming curriculum that will enrich our science program," said P.S. 299 Thomas Warren Field School of Leadership and Service Principal Dr. Carleen Miller-Bailey. "Our students deserve the best education possible and bringing state of the art technology like the hydroponic system to our school is a game changer for our community and we hope to inspire future scientists who will be change agents and global leaders."
The total investment of the expansion is $800,000 in Community Project Funding, reaching thousands of students in Brooklyn and Queens. The expansion also includes the first hydroponic lab at a CUNY campus – LaGuardia Community College.
"LaGuardia Community College (LAGCC) is committed to educating students to help them find sustainable solutions to problems in today's world," said President of LaGuardia Community College Kenneth Adams. "We are proud to expand opportunities for students to explore STEM fields through this partnership with NY Sun Works and with the generous support of Congressmember Velázquez. Hydroponic farms offer a pathway towards a more sustainable food ethic that prioritizes the health of our food, bodies, and environment without the heavy use of chemicals."
NY Sun Works delivers inquiry-based K-12 science and sustainability education through the lens of urban farming. The goals are to support each school's long-term capacity to deliver a high-quality science program; optimize students' learning experience in the hydroponic classroom; and expand access to fresh produce for students and their families, while covering the Common Core, Scope, and Sequence and EfS science standards. Hydroponic technology is indoor vertical farming that enables the cultivation of plants in an indoor environment. Rather than from the sun, plants receive energy from LED lighting that is tailored specifically to the energy needs of the plants. Instead of using soil, seeds are planted in soil-free growth mediums.
Partner schools will receive ongoing professional development training for science educators and weekly visits from a hydroponic specialist to guide teachers in hydroponic systems maintenance, provide planting, harvest, and produce distribution support; and clean, prep, and trouble-shoot systems.
In addition to LaGuardia, other schools being funded by Congresswoman Velázquez include: J.H.S. 050 John D. Wells; P.S. 110 The Monitor; P.S. 67 Charles A. Dorsey; P.S. 132 The Conselyea School; P.S. 145 Andrew Jackson; P.S. 151 Lyndon B. Johnson; P.S. 250 George H. Lindsay; P.S. 299 Thomas Warren Field; Lyons Community School; Benjamin Banneker Academy; Bridges: A School for Exploration and Equity; William Cullen Bryant High School; International High School at LaGuardia Community College; P.S. 76 William Hallet; I.S. 204 Oliver W. Holmes; P.S. 60 Woodhaven; P.S. 120 Carlos Tapia; I.S. 125 Thom J. McCann Woodside; and P.S. 86 The Irvington.
• • • •
LaGuardia Community College (LAGCC), located in Long Island City, Queens, educates thousands of New Yorkers annually through degree, certificate, and continuing education programs. LaGuardia is a national voice on behalf of community colleges, where half of all U.S. college students study. Part of the City University of New York (CUNY), the College reflects the legacy of our namesake, Fiorello H. LaGuardia, the former NYC mayor beloved for his championing the underserved. Since our doors opened in 1971, our programs regularly become national models for pushing boundaries to give people of all backgrounds access to a high quality, affordable college education.
####