Armenia-Native Ruzan Melik-Yolchyan is LaGuardia Community College's Nominee for Prestigious STEM Scholarship
Barry M. Goldwater Scholarship in Math, Natural Science & Engineering is given annually to 400-500 students selected from a pool of approximately 1,200 nominees from community colleges & four-year institutions nationwide. Winners are expected to be announced in late April 2020
February 26, 2020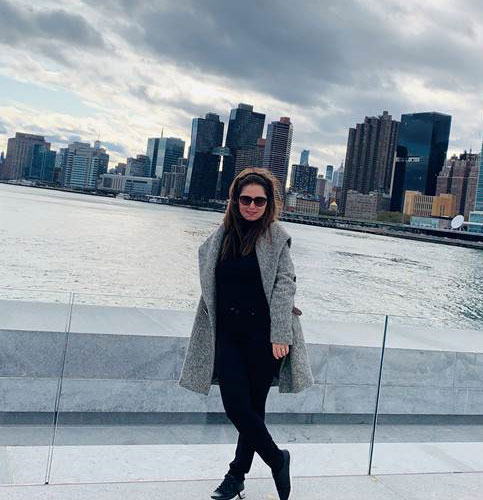 LaGuardia Community College ("LaGuardia") computer science major Ruzan Melik-Yolchyan has been selected as the college's nominee for the 2020 Barry M. Goldwater Scholarship in Math, Natural Science & Engineering. The prestigious scholarship for college students pursuing STEM fields is given annually to 400-500 students selected from a pool of approximately 1,200 nominees from community colleges and four-year institutions nationwide.
"Ruzan is a perceptive, sharp, quick-thinking individual with a high aptitude for analytic and scientific inquiry," said Professor Milena C. Cuellar, deputy chair of LaGuardia's Department of Mathematics, Engineering, and Computer Science.
"Ruzan has been one of the most outstanding students in my classes," said Professor Anthony Cordio. "In Advanced C++, Ruzan was one of only two students who earned perfect scores on each of their three software algorithm projects. In my Object Oriented Programming in JAVA class, she scored the highest final exam score for the class."
Ms. Melik-Yolchyan immigrated to the United States about four years ago from Armenia, which she describes as a "small historical country in Eastern Europe." After arriving in New York City, she realized that she'd need a college education in order to have a chance at pursuing the American dream. She enrolled at LaGuardia as a computer science major.
"I chose to pursue computer science because I see how important technology is to our economy and society. I want to be a part of this fast-growing field," said Ms. Melik-Yolchyan, who plans to look for ways to apply her language skills—she's fluent in English, Russian, and Armenian, and has basic skills in Farsi—to her career.
She's currently taking advantage of opportunities through LaGuardia and CUNY to gain professional experience. She recently completed a "Wintership" at Cornell Tech organized by CUNY's Women in Technology and Entrepreneurship (WiTNY) program. Through the Wintership, she participated in an intensive immersion program in computer science, animation, robotics, algorithms, web design, and mobile development, and made professional connections that she hopes will help further her career.
Ms. Melik-Yolchyan's honors include making the Dean's list for her academic achievements (she currently has a 3.6 GPA) and being a member of the Phi Theta Kappa International Honor's Society.
She will graduate from LaGuardia in June 2020, and then plans to transfer to a four-year college to earn her bachelor's. She has been admitted to several colleges, and is currently deciding where to go.
In her limited spare time, Ms. Melik-Yolchyan likes to explore new things and places. During the last three years, she visited Albany, Philadelphia, Washington, Boston, Las Vegas, Montreal, Quebec, Toronto, Cancun, and Puerto Plata in the Dominican Republic. She hopes to study abroad in the future.
Ms. Melik-Yolchyan is grateful that she had the courage to come to the U.S. for her studies, and encourages others to try new things. As she said, "I never would have dreamed that I'd be able to study in NYC and succeed in my educational field. My advice is to be curious and have the courage to try new things, and life will bring new adventures and experiences."
Winners of the 2020 Barry M. Goldwater Scholarship in Math, Natural Science & Engineering are expected to be announced in late April.
Ms. Melik-Yolchyan is grateful to Professors Cuellar and Cordio, as well as Professor Marina Dedlovskaya, Ph.D., for helping her to reach her educational goals. She also credits Professor Howard Motoike for nominating her for the Goldwater Scholarship and guiding her throughout the application process.
"Through her dedication and the solid recommendations of her professors, Ruzan produced an outstanding application package that made it clear that she should be our nominee to represent LaGuardia to the Goldwater Scholarship," said Howard Motoike, Ph.D., associate professor of biology at LaGuardia Community College.
Over 2,000 Students are Enrolled in 12 STEM Majors at LaGuardia
LaGuardia's STEM majors include computer science, engineering, mathematics, biology, environmental science, chemistry, and physics. After earning their associate degrees from LaGuardia, many students transfer into a four-year college to pursue their bachelor's.
LaGuardia STEM students learn from faculty who are engaged in scholarly research in topics ranging from thermal biology (how temperature affects biological processes) to the reproductive toxicology of starfish. This research, through the CUNY Research Scholars Program, LaGuardia's National Institutes of Health (NIH) Bridges program, and other initiatives, provide opportunities for LaGuardia STEM students to present their research at national conferences, learn valuable technical skills, and gain insight into how to develop a STEM career. Opportunities are also available for students to collaborate with LaGuardia faculty working with community organizations to improve our neighborhoods, such as restoring the waterway at nearby Newton Creek, which in 2010 was designated as a Superfund site by the Environmental Protection Agency.
In academic competitions, LaGuardia STEM students regularly have impressive outcomes—against students from two-year and four-year colleges alike. Last year, LaGuardia was the northeast region's top winner in American Mathematical Association of Two-Year Colleges competition. Also in 2019, LaGuardia won the New York State Mathematics Association of Two-Year Colleges competition for the second year in a row. LaGuardia teams have done very well at hackathons. And in 2019, two LaGuardia students won awards at the prestigious Annual Biomedical Research Conference for Minority Students.
To apply to LaGuardia Community College, visit www.LaGuardia.edu/Apply. Same day admission is available in-person at LaGuardia's Admissions Office located at 29-10 Thomson Ave., Room C-102, Long Island City, Queens, 11101. For what to bring and office hours, visit https://www.LaGuardia.edu/OnCampusAdmissions/.
• • • •
LaGuardia Community College (LAGCC), located in Long Island City, Queens, educates thousands of New Yorkers annually through degree, certificate, and continuing education programs . LaGuardia is a national voice on behalf of community colleges, where half of all U.S. college students study. Part of the City University of New York (CUNY), the College reflects the legacy of our namesake, Fiorello H. LaGuardia, the former NYC mayor beloved for his championing the underserved. Since our doors opened in 1971, our programs regularly become national models for pushing boundaries to give people of all backgrounds access to a high quality, affordable college education.
####