Attentive Energy One and LaGuardia Community College Announce $16 Million Proposal for Queens Offshore Wind Training Hub and Network of Training Providers
Renewable Energy Developer Proposes $10 Million Investment to LaGuardia Community College and $6 Million Towards Western Queens Community Organizations as Part of 1,400 MW Offshore Wind Project Proposal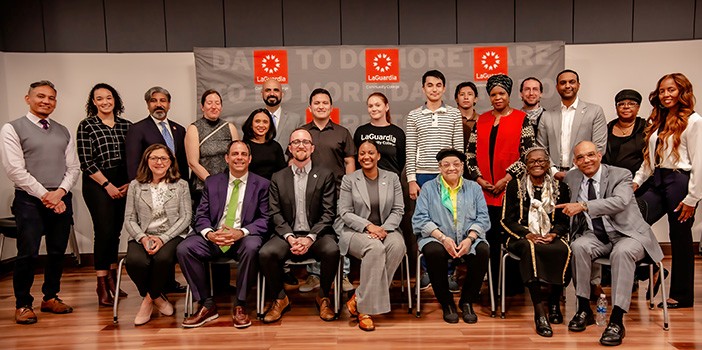 LONG ISLAND CITY, NY (April 25, 2023) — Attentive Energy One, a joint venture between Rise Light & Power and TotalEnergies, proposed $16 million in renewable energy training funds in Western Queens as part of its 1,400 MW offshore wind proposal to the New York State Energy Research and Development Authority (NYSERDA). This investment in an inclusive green economy will be anchored by the proposed Queens Offshore Wind Training Hub at LaGuardia Community College (LAGCC). This includes a $10 million, purpose-built combination of classroom and hands-on training space at LAGCC as well as $6 million in funding for community-based organizations with a strong presence in Western Queens' four NYCHA developments – Queensbridge, Ravenswood, Astoria, and Woodside – to source, mentor, and refer candidates to the Training Hub. The announcement was made on Monday, April 24 by Attentive Energy One, LAGCC leadership, and community leaders during a visit to LaGuardia's Long Island City campus.

A just transition to renewable energy includes both retraining for existing union workers along with employment programs that prioritize New Yorkers living in environmental justice communities – particularly NYCHA residents. Urban Upbound and Jacob A. Riis Neighborhood Settlement will play key roles in this workforce pipeline, along with Variety Boys & Girls Club of Queens (for which proposed funding was previously announced in March 2023). Additional funding will be provided to BioBus, a mobile science lab with a renewable energy focus, to provide access to STEM education for public schools and inspire the next generation of scientists.

At LaGuardia Community College, the Queens Offshore Wind Training Hub will include robust service offerings featuring:
Offshore Wind Training will prepare New Yorkers for careers in the emerging local offshore wind industry. This will include short-term certificate programs in areas such as Offshore Wind Technician, Global Wind Organization (GWO) Basic Technical Training, GWO Basic Safety Training, and Construction Management, as well as academic programming for degree students in engineering, environmental sciences, energy, and business degrees. LAGCC programs will be accredited by the Global Wind Organization (GWO) and the National Center for Construction Education and Research (NCEER).


Offshore Wind Incubation will provide a range of business support services and technical assistance to startups, early-stage, and growth-phase enterprises seeking to participate in the offshore wind supply chain, with a focus on Women- owned, Minority-owned, and Service-Disabled Veteran-Owned businesses. The Procurement Technical Assistance Center and the Small Business Development Center will assist businesses with obtaining certifications and will advise on procurement processing and contracting. Additionally, businesses will be provided access to affordable workspaces, industry experts, mentorship, fabrication equipment, networking opportunities, community events, and accelerator programs. Attentive Energy One previously announced $15 million in funding for its New York State Supply Chain Development Partnership (SCDP) on March 7, 2023, a large portion of which will serve as a grant and loan fund for diverse businesses to ramp up capabilities to serve the offshore wind market.


Community Programming at the hub will include workshops about clean energy careers for local middle and high school students as well as seminars and events for stakeholders in the clean energy innovation and workforce sectors, including opportunities for supply chain businesses to connect with offshore wind developers and training program graduates.

To address the climate injustices of the past, New York State's Climate Act sets the goal that that Disadvantaged Communities receive at least 40% of the benefits of state climate funds. Attentive Energy One is purposefully designed to exceed this target, delivering both economic and public health benefits to Disadvantaged Communities. Attentive Energy One will construct an offshore wind farm, which will deliver clean energy to over 700,000 homes via Ravenswood Generating Station in Long Island City, permanently replacing 400 MW of fossil fuel generation. More than 2,600 new unique jobs will be created by the project's construction and operation; Attentive Energy One's workforce investments ensure that Western Queens residents will have access to these economic opportunities. This investment will increase LAGCC's capacity to offer skills, certifications, and specialized offshore wind training to hundreds of New Yorkers, drawing on a pipeline of candidates from a network of community-based organizations that will deliver the STEM training, soft skills, and other supports.

This Western Queens investment proposal, a cornerstone of Attentive Energy One's $300 million economic benefits plan, ensures that career and wealth-building opportunities in the renewable energy industry are open and accessible to all New Yorkers through high-quality public institutions. These funds supplement additional proposed support that was previously announced for the City College of New York, College of Staten Island, Red Hook Initiative, Billion Oyster Project, Harbor School, and others.

Located just one mile east of Ravenswood, LAGCC is the City University of New York's (CUNY) flagship institution in Western Queens. With more than 23,000 students enrolled from 133 countries, LAGCC provides ladders of opportunity and equips one of the nation's most diverse student bodies with the skills to shape a rapidly evolving energy sector.

Projects like Attentive Energy One are critical to reach New York State's aggressive climate goals. They also provide tremendous economic opportunities for New Yorkers to access high-quality green jobs; public colleges like LAGCC will play a critical role in creating and shaping new green energy curricula, providing certification programs, and building a talent pipeline into the emerging offshore wind sector.

"Meeting New York's climate goals not only requires sustained investment in renewable energy but also a well-trained workforce prepared to lead our clean energy transition," said Congresswoman Nydia M. Velázquez. "The proposed Queens Offshore Wind Training Hub at LaGuardia Community College will help provide a just transition to clean energy by retraining union workers and prioritizing workforce development for New Yorkers living in environmental justice communities right here in Queens. The hub will also support New York entrepreneurs by providing vital technical assistance to startups and helping small businesses obtain certifications and compete for government contracts."

"The proposed Queens Offshore Wind Training Hub will be a purpose-built space with both classroom and hands-on training space at LaGuardia," said Kenneth Adams, President of LaGuardia Community College. "The Western Queens community will have access to opportunities and resources providing STEM education, workforce skills training, and referral services to build a pipeline of candidates from disadvantaged communities towards long-term careers in offshore wind and renewable energy. It's a project that meets the needs of our community and our environment."

"Attentive Energy is excited to partner with LaGuardia Community College and the broader Western Queens community to support the development of the future clean energy workforce," said Damian Bednarz, Managing Director, Attentive Energy. "Through this investment, Attentive Energy is committed to cultivating homegrown talent and local diverse enterprises seeking to participate in the offshore wind supply chain, strengthening career readiness and supporting innovative climate tech solutions."

"We are proud to support one of our closest neighbors, LaGuardia Community College, to prepare the next generation for the emerging green economy," said Clint Plummer, CEO of Rise Light & Power. "There's no better place to source the renewable energy workforce than from the ranks of our existing union and from our neighbors in NYCHA. This project will deliver unmatched benefits for New Yorkers, by New Yorkers."
• • • •
LaGuardia Community College (LAGCC), a Hispanic-Serving Institution, located in Long Island City, Queens offers more than 50 degrees and certificates, and more than 65 continuing education programs to educate New Yorkers seeking new skills and careers. As an institution of the City University of New York (CUNY), the College reflects the legacy of our namesake, Fiorello H. LaGuardia, the former NYC mayor beloved for his advocacy of underserved populations. Since 1971, LaGuardia's academic programs and support services have advanced the socioeconomic mobility of students while providing them with access to a high quality, affordable college education.

About Attentive Energy One
Attentive Energy One ("AE1") is an offshore wind project designed to help New York State achieve the twin goals of replacing fossil fuel with renewable energy and establishing a durable local industry with living-wage jobs. The project will deliver a historic environmental justice victory by retiring and replacing a major fossil-fuel power plant with offshore wind power. The project will power over 700,000 New York homes in an area approximately 54 miles from its nearest point in New York. Wind power will be delivered directly to a waterfront power plant via a subsea transmission solution that avoids cable landings through beaches and other sensitive recreational areas. As a joint venture between TotalEnergies and Rise Light & Power, Attentive Energy One is uniquely positioned to deliver this major offshore wind project for New York. Click here for more information.

About TotalEnergies
TotalEnergies is a global multi-energy company that produces and markets energies: oil and biofuels, natural gas and green gases, renewables and electricity. Our more than 100,000 employees are committed to energy that is ever more affordable, cleaner, more reliable and accessible to as many people as possible. Active in more than 130 countries, TotalEnergies puts sustainable development in all its dimensions at the heart of its projects and operations to contribute to the well-being of people. TotalEnergies has more than 11 GW of offshore wind projects in development, under construction or in operation across the world, and a portfolio of nearly 25 GW of wind, solar and storage in the U.S.

About Rise Light & Power
Rise Light & Power is a Queens, New York based energy asset manager and developer, and is actively transforming its core asset, Long Island City's Ravenswood Generation Station, into a new clean energy hub, Renewable Ravenswood. By redeveloping New York City's largest power generating facility, Rise will permanently replace fossil fuel power with homegrown renewable energy, while providing a just transition for its existing union workforce and economic opportunities for surrounding communities. Renewable Ravenswood, core to Rise's growth-oriented strategy, is at the forefront of the ambitious clean energy transition taking place in New York State and will continue to provide reliable and cost-effective electricity for New York City for decades to come. Rise Light & Power is a wholly owned affiliate of LS Power. Click here for more information.
####