White Mother, Black Daughter: An Honest Look at Transracial Adoption
Professors Joni and Rebecca Schwartz Co-Author New Book on Transracial Adoption
January 4, 2021
LaGuardia Community College mother-daughter professors Joni Schwartz and Rebecca Schwartz have co-authored a new book, Learning to Disclose: A Journey of Transracial Adoption, exploring their relationship and identities. Haitian-born Rebecca was adopted by Joni Schwartz in 1990.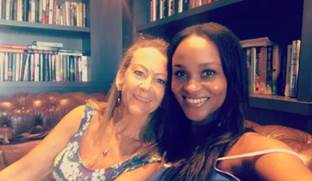 Both are faculty in the Humanities Department. Joni Schwartz is a professor of communication studies, and Rebecca Schwartz is an adjunct professor. They're pictured together at right.
The book offers first-person accounts from both women as they contemplate their memories and experiences while reflecting on race, white privilege, and the controversies that now surround transracial and international adoptions.
"My adoptive parents never talked about race much therefore I never saw myself in a racial way; I just saw humanity," writes Rebecca, who has worked extensively with humanitarian organizations in Haiti, Jordan, Uganda, and the Congo.
Now, though, she adds, "I am aware and now I cannot go back to colorblindness. And it is like I am making myself look in the mirror as I come to this consciousness, that there is color and I am Black, and what am I going to do with this?"
Joni responds with "regret" for "not discussing and grappling with race earlier in our relationship." She adds: "From my position of privilege, I did not have to recognize that I was White … Embracing my White racial identity perhaps made me feel that I might be more distant from my daughter and all I wanted was to be close—to bond as mother and daughter."
Read More: White Mother, Black Daughter: An Honest Look at Transracial Adoption.
###