Actor and Playwright Ahsan Ali Credits LaGuardia for Teaching Him to Stand Out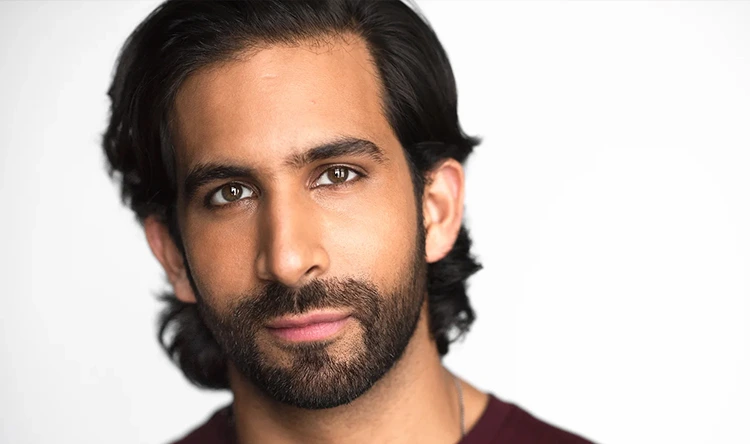 LONG ISLAND CITY, NY (September 13, 2023) — As he gets ready to star in an Off-Broadway production that he co-wrote, Ahsan Ali (LaGuardia'15, Theater) credits LaGuardia Community College's Theater Program for teaching him how to stand out on stage. Friends with Amenities will be performed at 59E59 from Sept. 14–30.
"The training that LaGuardia Theater students get creates a hunger to work harder—a quality that makes actors stand out in a room or on stage," said Ahsan, 34. "LaGuardia is where I learned to be bold in storytelling and to do the stories that you are compelled to tell. It's because of this encouragement that I've learned to trust my intuition in my professional life."
In 2013, Ahsan moved to the U.S. from his home country, Pakistan, to pursue his passion for performing. "I was doing theater since an early age in Pakistan," said Ahsan, who joined his parents and brother, already living in New York.
Upon his arrival in NYC, Ahsan looked for a college where he could further his study of acting and writing. He's grateful that he connected quickly with Stefanie Sertich, professor and director of LaGuardia's Theater Program. "I emailed professors at several colleges I was considering, and Stefanie was the most helpful in getting back to me," said Ahsan. "And LaGuardia was one of the only colleges that was even affordable to me as an immigrant, because coming to the United States as an international student is very expensive."
At LaGuardia, Ahsan worked hard to learn as much as possible about the craft of acting.
"Ahsan would ask countless questions about theatre and look for every opportunity to learn," said Professor Sertich. "His curiosity, work ethic, and talent landed him roles at LAGCC such as ensemble In the Heights and as Musa in Bengal Tiger at the Baghdad Zoo."
"Performing in those productions were some of the best experiences I have had to date," said Ahsan. "I had a grounding feeling while telling a story on stage that was about someone who looked like me, which was Bengal Tiger."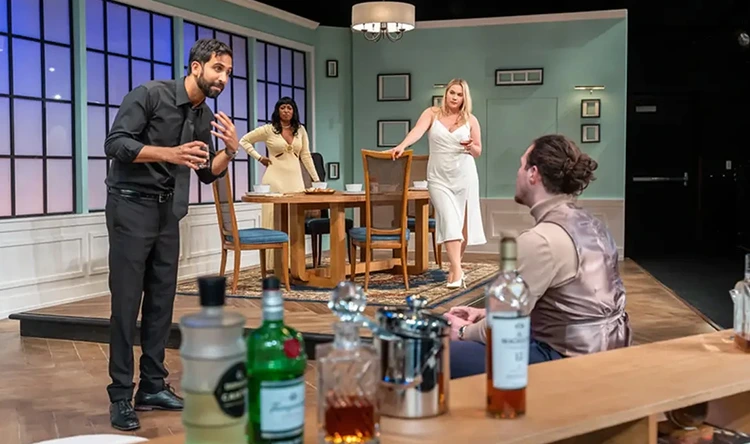 In 2015, LaGuardia's Theater Program was invited to perform Bengal Tiger at the Baghdad Zoo at the Kennedy Center's American College Theatre Festival (KCACTF), the preeminent theater festival for U.S. two- and four-year theatre programs. Going up against students from theater programs at two- and four-year colleges at the national KCACTF conference, Ahsan took home a "Distinguished Performance by an Actor in a Supporting Role" award for his Bengal Tiger performance and an "Artist-as-Citizen" award.
"KCACTF is one of the most important aspects of theater education at LaGuardia—it introduces students to theater communities from all over U.S.," said Ahsan. "Getting to participate at KCACTF as a community college student was eye-opening for me. And winning an acting award transformed my career. It opened doors and enabled me to make connections with professionals whom I still go back to regularly for advice."
After graduating from LaGuardia, Ahsan earned a BFA from Brooklyn College's Acting Conservatory program and has been working as an actor and writer in the industry ever since.
Ahsan turned to playwriting to fill gaps in representation in theater. "It was evident from an early point that there weren't a lot of stories about someone who looks like me. So, from an early stage I started adapting stories about Pakistani characters. Friends with Amenities came about because I wanted to tell a story about a Pakistani going through immigration issues. I was honored to collaborate with Lisa Jill Anderson, a friend and fellow alum from Brooklyn College."
He continues to be a friend of LaGuardia's Theater Program. "Ali's been a mentor for many theatre majors, and he helped us pave a relationship with the competitive Brooklyn College BFA Acting Conservatory program," said Professor Sertich.
One piece of advice that Ahsan regularly gives LaGuardia theater students is, "Listen to Stefanie Sertich!"
"LaGuardia is one of the most unique institutions in New York. They really focus on the community in its name," said Ahsan. "It's where I found mentors and friends in the theater community. Some of the relationships I made there will stay with me for the rest of my life."
• • • •
LaGuardia Community College (LAGCC), a Hispanic-Serving Institution, located in Long Island City, Queens offers more than 50 degrees and certificates, and more than 65 continuing education programs to educate New Yorkers seeking new skills and careers. As an institution of the City University of New York (CUNY), the College reflects the legacy of our namesake, Fiorello H. LaGuardia, the former NYC mayor beloved for his advocacy of underserved populations. Since 1971, LaGuardia's academic programs and support services have advanced the socioeconomic mobility of students while providing them with access to a high quality, affordable college education.
####