Community Health Workers are an important resource for communities and healthcare organizations, connecting individuals and families to services and information they need.
The Community Health Worker Certificate Training Program offers up to 9 credits towards a degree in Human Services at LaGuardia.
Community Health Workers (CHWs) are public health professionals whose main responsibility is to help bridge gaps between different populations and healthcare or social service systems by providing outreach, basic health education, referrals and follow-up service, case management and home visiting services.
Provide culturally appropriate health information and translation
Offer health and social service guidance
Provide direct service, such as basic first aid and health screening tests
Advocate for individual and community needs
The Community Health Worker Certificate Training Program is a contextualized program that provides instruction and activities to build academic skills while preparing you to enter or advance in the workplace as a CHW. You will receive extensive career development services and upon program completion earn a certificate of completion from LaGuardia.

We also offer a track for English Language Learners that provides healthcare related English language instruction in addition to regular program material.

Our graduates have been hired as CHWs, health coaches and patient care navigators at organizations including Bronx Lebanon Hospital Center, Mount Sinai Hospital, City Health Works and Iora Health.
Must be authorized to work in the U.S.
All LaGuardia Continuing Education students attending classes on campus must submit documentation of full vaccination to the Cleared4 platform before the first day of in-person instruction. For more information click here.
*Documentation will be required.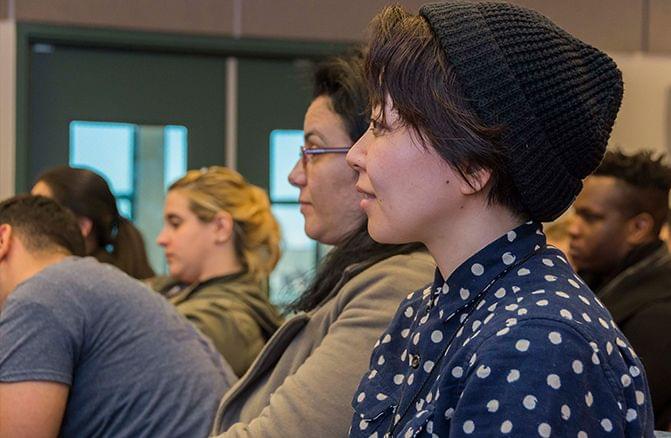 To inquire about customized training opportunities for the Community Health Worker Certificate Training Program, please contact Barbara Hart at (718) 730-7708 or bhart@lagcc.cuny.edu.
Recent partners include:
U.S. Department of Labor registered apprenticeship in partnership with 1199SEIU Training and Upgrading Fund
New York City Housing Authority (NYCHA)
Commonpoint Queens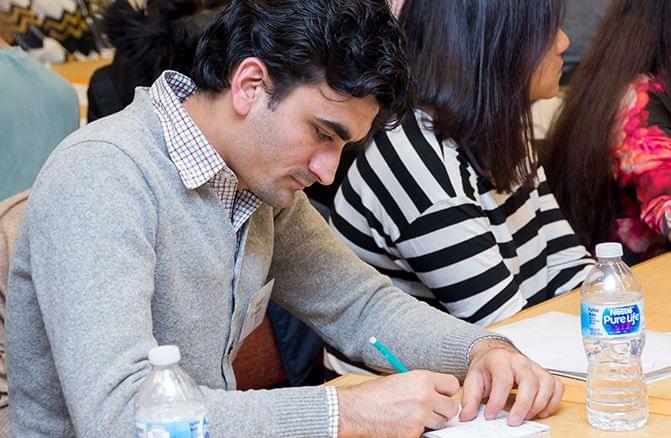 The projected regional employment growth through 2022 for CHWs is 12.2%. The median regional wage is $18.87.
Emsi Analyst Occupation Report, June 9, 2017
Local government
Individual and family services
Children and youth services
General medical and surgical hospitals
Outpatient mental health and substance abuse centers
United Health Group
Montefiore Foundation
The Institute for Family Health
Columbia University
Montefiore Medical Center

Emsi Analyst, Job Posting Analytics, October 2017
Apprentices Need Expert Eye. So Does Trump's Plan for Them
Kevin Carey SEPT. 28, 2017
The New York Times
Photo by: Victor J. Blue


Destina Garcia, a community health worker at Bronx-Lebanon Hospital, recently completed a new Community Health Worker Apprenticeship Program at LaGuardia Community College.

Read more about Destina Garcia in The New York Times.