LaGuardia Humanitarian Initiative (LHI)
Faculty
Since its launch in Spring 2020, LaGuardia Humanitarian Initiative is currently LaGuardia's only collegewide initiative providing experiential learning opportunities to ALL students, irrespective of department and program.

Through partnerships with local and global organizations, LHI's high-impact pedagogical practice focuses on a yearlong interdisciplinary inquiry of global issues as defined by the United Nations. By aligning with the mission of LaGuardia and the goals of Experiential Learning as stated by the Association of Experiential Education, LHI addresses General Education's all the core competencies and communication abilities.

40+ courses have incorporated LHI in their curriculum since its inception. LHI foregrounds reflective pedagogy by a) helping students understand why they are learning the academic content and b) teaching them strategies of how they could apply that knowledge. LHI's work has been acknowledged by the United Nations, Nobel Laureate Malala Yousafzai, Nobel Laureate and Vice President Al Gore, among others.
---
LHI Framework: Aligning with the United Nations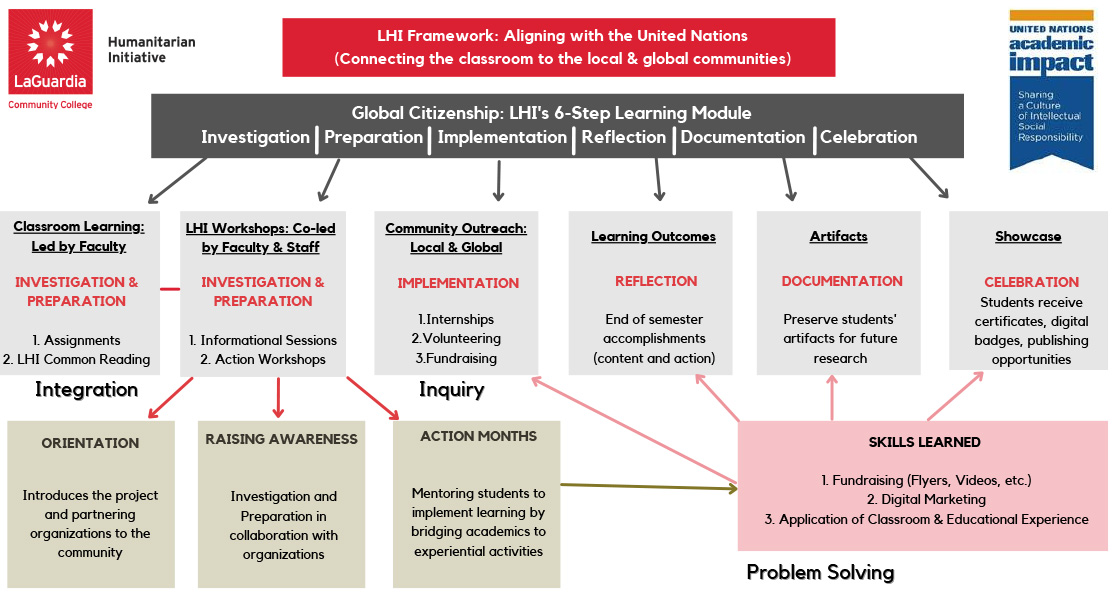 ---
Classroom Learning/Inclusive Pedagogy (Led by Faculty)